MODULAR BUILDINGS CAREERS AT MOBILE MODULAR
Thank you for considering a position with McGrath RentCorp. We understand it is important to find the right job and career. When Bob McGrath founded our Company in 1979, he wanted it to be a fun place to work, where we especially focus on customer service with integrity. Even though we have over 600 employees, we still try to keep a small company atmosphere. Many of our employees have been with us for over ten years.
Click the Career Opportunities link to view a complete list of open positions at McGrath RentCorp, Inc.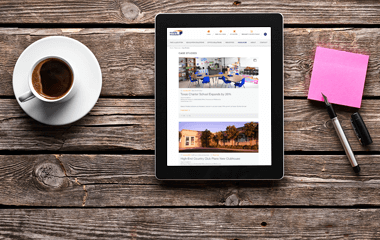 Our benefits
A fun place to work!
Medical / Dental / Prescription Drug Coverage
Life Insurance
Employee Stock Ownership Plan (ESOP)
401(k) Retirement Plan
125 Flexible Benefit Plan - Medical and Dependent Care
Full Domestic Partner Benefits
Educational Assistance
Employee Training
Our Core Values
Our success is built on a strong foundation of values. From a commitment to our employees to unwavering integrity with our customers, we believe people are our most valuable asset.
We do what we say we will do.
Our promise is our word. We act on every level with integrity and we honor our commitments to our customers and each other.
Exceptional customer experiences are our lifeblood (internal & external)
Our goal is to exceed your expectations, every day and with every interaction. We are passionate about serving our customers and each other.
YOU matter
We value you and truly believe that each person at McGrath RentCorp has great things to contribute and that you are the key to our success. Your enthusiasm and commitment are instrumental to providing an exceptional experience for our customers.
Our personal best is put forth in everything we do
We give it our all. We go above and beyond whenever we can and expect excellence in each other.
To lead in our markets we adapt, renew, innovate
We pay close attention to our markets and make choices that support long term growth. We aim to lead. From the ground up, we embrace the need to change in order to adapt to the challenges at hand.
EQ is as important as IQ
Emotional intelligence, or EQ, is a crucial element in working in a collaborative team environment. Excellent interpersonal skills combined with a bright, inquisitive, "can-do" attitude equal career success at McGrath RentCorp.
We value getting it right vs. being right
We challenge and upgrade each other to arrive at the best solution, regardless of whose idea it might be. We do this respectfully and with the aspiration to solve a problem. We also are not afraid to push hard on the ideas and opinions of others in order to make them better.
Relationships are built with open, honest, and direct communication
Sometimes the real facts of business performance can be brutal. We challenge ourselves to navigate through this with open, honest, and direct communication. Over the long term, this maximizes both resources and time, and builds high trust with those involved. We call this "courageous conversation."
We have a flywheel mentality
Pushing a very large wheel in small increments time and time again eventually gets the wheel spinning faster and faster. Continuous improvements and incremental gains, no matter the size, are like pushes on the flywheel and this creates great momentum in our business.