Storage and Office Containers
Storage and Office Containers
Shipping containers offer ground-level office space and storage with quick installation across construction, manufacturing, petrochemical, oil, gas, and industrial applications.
Storage Container Rental
Looking for temporary storage solutions? Portable storage containers for rent are a great option and can be used in various industrial applications with short or long-term rental periods.
Originally designed for transporting goods across the sea, shipping containers have made their way to various industries as storage units. They can withstand harsh weather, water, and fire to keep your contents safe. Made of Corten steel, these ISO-grade storage containers are high-strength, durable units with multiple customization options, rental plans, and container sizes.
You can rent shipping containers for moving and storing goods in various industries, including construction, industrial manufacturing, education, government, petrochemical, retail, municipal, healthcare, automotive, agriculture, and more!
Mobile Modular Portable Storage understands the needs of all its customers. Offering high-quality containers, we partner with businesses to provide convenient storage and office solutions.
Storage Container Office for Sale or Rent
Rent or buy ground-level office containers that are secure, portable, and affordable. Set up your job site fast with minimal operating expenses. Our mobile office designs are made of sturdy, new, and used shipping containers.
The High-Security Portable Offices from Mobile Modular Portable Storage provide solutions to space restrictions and the need for additional office space. Containers are tough, affordable, fully movable, and safe — drop units directly on the ground to maximize your work environment.
Our team is ready to help you with your professional workspace needs. Rent container offices with a fast response time and transparent pricing.
Storage Container Office Combos
Mobile Modular Portable Storage is the leading supplier of combo storage container offices for rent or sale. Our combo storage container office units help you get the best of both - the additional space of a storage unit and the utilities of office space.
We provide shipping container office units with climate-controlled workspace and storage that can function as efficient offices or break rooms and can be modified into restrooms or other on-site needs.
Our ground-level office containers are highly portable and feature office-grade finishes, storage space, HVAC modifications, durable flooring, and security features that help create highly functional office spaces.
With this space-saving solution, you'll be able to boost productivity and maintain access to your goods, 24/7. Enjoy additional workspace and organize important documents, inventory, or equipment, all in one stop.
The high-strength, corrugated steel body of our combo containers protects your goods, materials, and inventory from external weathering. Additionally, these ISO-grade storage-office trailers provide ground-level access for supplies and valuable equipment. You can also keep these containers stacked on top of each other to create larger office and storage space in the same floor area.
Browse Available Products
Find a storage container that meets your job site needs. Mobile containers can be delivered across the US in all our locations on your scheduled day after receiving the order. Portable storage containers are legally compliant with the rules of each city and municipality.
Tell us about your business storage requirement today - request a quote or call us at 800-846-5180.
Learn More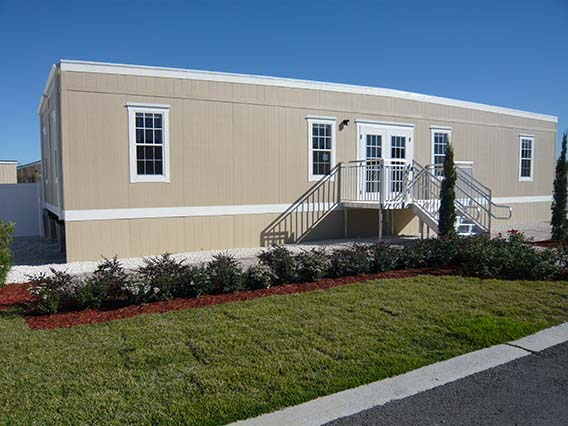 Modular Offices and Prefab Commercial Buildings
Mobile Modular offers a wide selection of prefabricated modular offices and customized building solutions to meet your project needs.
Learn More