The portable works well and is very functional. Installation was smoothly done.
Great service, great newer products, service is very good!
The quality and construction is top notch and delivery is always as promised.
Modular Buildings for GSA Contract Federal Government Purchasing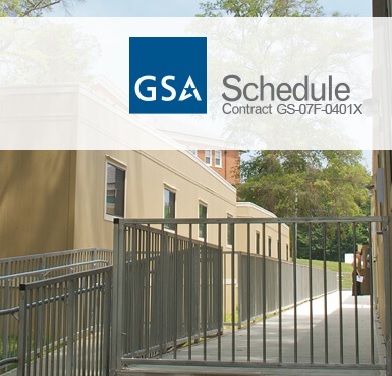 Mobile Modular provides economical and flexible modular building solutions for your government project.
We provide every customer with:
Exceptional interactions – from quick notes to a fast delivery
Competitive preset GSA price schedule, updated regularly for best pricing
Staff with over 30 years of experience in the modular industry
Reliable, professional delivery and installation of prefab buildings
Ready-to-ship inventory available for disaster recovery
With more than three decades in modular construction, Mobile Modular is an approved GSA vendor under contract number GS-07F-0401X for portable offices, prefab classrooms, and other portable buildings.
Mobile Modular's GSA Specialist
GSA Information
Schedule Title: 056- Buildings & Building Materials/Industrial Services & Supplies
FSC Group: 54 Pre-Engineered/ Prefabricated buildings and Structures
FSC Class: 5410
Our GSA approval is a testimony of our commitment and determination to serve government agencies with superior quality portable offices and relocatable buildings. We have successfully completed modular building projects that span a depth and range of industries, with modular specialists who have worked on a range of challenging projects.
Our GSA approved modular solutions are ideal for the following government buildings:
Prefabricated office buildings
School buildings and modular classrooms
Restrooms
Guard shacks
Training centers
On-site medical facilities
Medical labs
With Mobile Modular, you get custom prefabricated buildings for the best value. Our buildings come with a range of modular accessories to fit different aesthetics. A dedicated fleet of trucks and trailers deliver the final product at your location to install your building in the shortest possible time.
Government agencies need exceptional quality at the best prices and commercial modular building vendors like Mobile Modular deliver exactly that. Save on time and budget with our GSA approved modular buildings. Get in touch with one of our representatives and request a quote today.
| SIN | Description |
| --- | --- |
| 361-10A | Pre-Engineered and Prefabricated Buildings and Structures for Storage Solutions |
| 361-10E | Pre-Engineered and Prefabricated Buildings and Structures for Professional Facility Solutions |
| 361-10E | Pre-Engineered and Prefabricated Buildings and Structures for Restrooms, Shower and Laundry Solutions |
| 361-50 | Leasing or Pre-Engineered/ Prefabricated Buildings and Structures |
| 361-51 | Lease/Rental of Pre-Engineered/Prefabricated Restrooms and Utility Rooms |
*Price list updated through modification PO-0037, dated 3/30/2011
Mobile Offices

We offer the largest selection of well-maintained mobile offices/job site trailers in a wide variety of standard sizes and configurations saving you time and money.

Classrooms

Our line of modular classrooms includes state-approved buildings, standard portable classrooms and energy efficient options.

Containers

We offer storage containers, construction storage, office containers and office/storage combinations in various lengths.

Restrooms

We offer standard and custom configurations. Serve 300 lockers showers.

Sales Offices

We also have extensive variety of alternative floor plans and the ability to customize to your specific needs.
Mobile Modular delivers innovative, flexible modular space.
Mobile Modular delivers a robust yet cost effective modular medical facility.
Mobile Modular equips a large branch of the U.S. government with a dependable modular space.