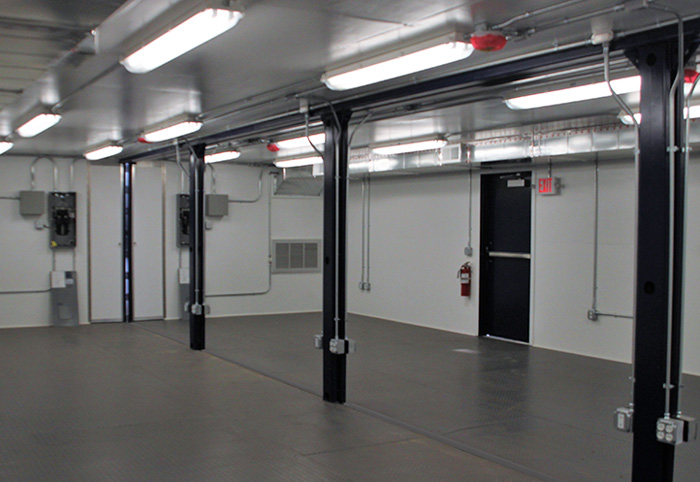 Put Safety First with DropBox™ Blast Resistant Buildings
Few things matter more than the safety of your workers in and around blast zones. We understand the need to give your employees a blast resistant space to securely store tools, hold meetings, take breaks, and manage projects. Mobile Modular DropBox™ Blast Resistant Modules (BRMs) are engineered to meet industry standards and blast zone level requirements. Protect your team and site materials with our standalone modules, available for delivery to your plant, refinery, or project site.
BRM Safety Features
8.0 PSI overpressure 200 milliseconds duration
All steel exterior construction
4-ton standard HVAC with dehumidification and 10 KW heat strip
Custom floor plans including multi-plex units, and tool cribs
Safety for refinery and chemical plant employees
Increased efficiency by being close to jobsite
Reduce risk and liability
Help mitigate theft at the job site
Perfect space for conferences, breaks, or a safe huddle space
Delivered via Landoll (roll-off) trailer or flatbed
Blast Resistant Module Applications
BRM buildings are ideal as blast resistant offices, blast-proof office containers, blast box tool cribs, explosion-resistant break rooms, or as blast resistant shelters where your crew will feel safe.
The Mobile Modular Difference
Wide range of top-quality new and used BRM for rent, lease, and purchase.
Next business day delivery of in stock, standard plan buildings.
We guide you through every step to ensure the best fit for your site.
We pride ourselves on always providing prompt service.
If required, we can provide site-related construction work.
30-day billing cycle on portable office trailers for rent or sale.
BRM units are manufactured in the U.S.
Mobile Modular Plus Add-on Services
Plus offers all the add-on services you need to furnish your workspace—from desks, to conference room necessities, to breakroom basics. Plus has a full catalog of options for setting up your modular building efficiently. Browse our complete collection of available accessories.
Learn More