The construction industry finished strong in 2017, with spend levels exceeding 2016 numbers. This positive trend in spending is forecasted to continue by five percent in 2018. What factors are influencing construction industry's growth in 2018? Check out these four reasons: 1. Increased spending on construction in 2018. In 2017, builders spent 0.8 percent more on construction projects in November, which was the fourth consecutive monthly gain. According to the Department of Commerce, seasonally-adjusted annual construction spending totaled to $1.26 trillion, 2.4 percent up from the previous year. Private construction mirrored this improvement, with an one percent increase in spending in November 2017 alone. This increase in construction spending is expected to continue into 2018.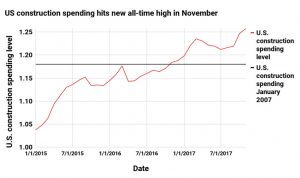 (chart from Construction Dive)
2. New tax cut. The manufacturing industry is set to gain from the recent $1.5 trillion tax cut approved by Congress in December 2017, which significantly lowered the corporate income tax rate to 21 percent from 35 percent. A few key outcomes in the bill are:
-Reduction of the corporate tax by 14 points
-Doubling the estate and gift tax exclusion to $11 million
-Retaining tax-exempt status of Private Activity Bonds
-Prevention of full repeal of the Historic Tax Credit
As corporate companies pay less in taxes, they will have opportunities to grow and pursue new construction projects.  
3. Growth in the construction machinery manufacturing market. According to a recent report by BCC Research, the global construction equipment manufacturing market will reach $230.9 billion by 2020. This is equivalent to a compound annual growth rate (CAGR) of 6.2 percent. The Institute for Supply Management published a survey in which manufacturers reported an increase in export orders, especially from machinery manufacturers. Speaking about this, John Silvia, chief economist at Wells Fargo Securities, commented, "A number of the published industry comments focused on a pick-up in demand [for machinery] from overseas." This is definitely a positive sign for growth in construction in 2018.
4. Rebuilding after natural disasters. One of the key growth factors for construction will be rebuilding efforts after natural disasters, like the wildfires in California and Hurricanes Irma and Harvey. The National Oceanic and Atmospheric Administration reported that natural disasters in 2017 cost the country around $306 billion in total damages.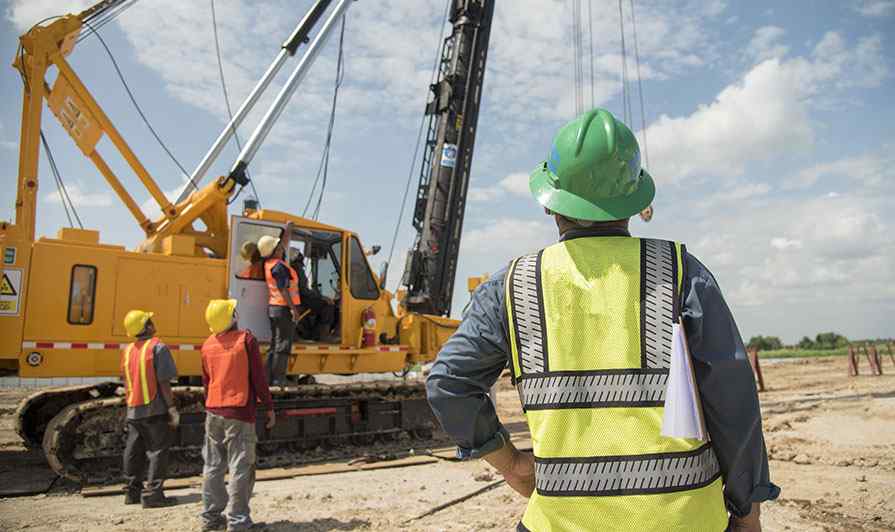 Rebuilding efforts will not just be restricted to homeowners and private businesses either. Public construction projects are expected to increase three percent in 2018 compared to one percent in 2017. Plus, further projects could extend from the $200 billion infrastructure program proposed by the government. At a time like this, construction firms must capitalize on the growth opportunities and find solutions for completing projects on time and on budget.
Complete projects faster with modular construction in 2018
Mobile Modular is a leader in commercial modular construction. For decades, we have exceeded customer expectations with modular classrooms, prefabricated offices, restrooms, and other structures. We can help you ensure projects finish within proposed timelines and budgets with our efficient building methods. Modular projects can be completed 30 to 50 percent sooner than traditional construction projects. In addition to faster timelines, modular buildings offer flexibility in function and location, so you can refurbish or move your building as your business evolves. Several industries already embrace modular construction as a tried and true construction method for their projects. If you're interested in exploring modular construction for your next project, request a quote today.