Structural insulated panels (SIPs) are not new to construction. In the 1930s, a student named Alden Dow worked with Frank Lloyd Wright to add insulating polystyrene at his parents' company. Then with the help of his family, Alden built houses in Wisconsin with polystyrene insulation, creating the first SIPs.
However, the high cost of construction prevented others from following Alden's footsteps until the 1980s. Builders came to realize that SIPs were beneficial for controlling airtightness and easy to manage. Today SIPs are widely used in construction and considered an environmentally friendly insulation option.
What are structural insulated panels (SIPs)? Structural Insulated Panels are essentially made of an insulating foam core sandwiched between two structural facings. The foam core is usually made of expanded polystyrene (EPS).  The high percentage of air trapped in polystyrene makes it an exceptional insulator.
The structural facings are usually made of oriented strand board (OSB), sourced from small diameter, fast-growing trees. These trees are generally harvested from plantations to avoid unnecessary deforestation.
Benefits of structural insulated panels in construction
Build faster. SIPs are generally put together in a controlled factory setting for use as walls, floors, and roofs in light commercial buildings or houses, and delivered to the site ready to use. Builders can fabricate an arrangement of panels according to the approved building blueprints, including precut window frames and door openings. Panels install quickly, saving builders the time required for framing, insulating, and sheathing stick-framed walls.
Save money. Structural insulated panels save on energy costs, because the SIP structure maintains a high R-value. Heating and cooling account for up to 50 percent of the energy used in buildings. SIP airtight insulation keeps temperatures in check and maximizes the effects of efficient HVAC units. This saves owners anywhere between 12 to 14 percent on energy costs when using SIPs.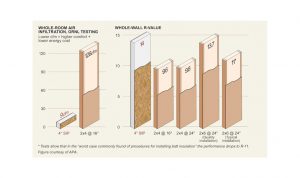 Source: SIPs.org
Lasting structures. According to the Journal of Light Construction, SIPs make strong, lasting builds. The expanded polystyrene used in SIPs will not rot and doesn't fall prey to insects and parasites that cause structural damages. Polystyrene is a non-hydroscopic material, so SIPs do not readily absorb water, minimizing water damage due to leaks or flooding.
Structural insulated panels in modular construction 
Excellent, high quality structural insulated panels are used in modular construction to enhance energy efficiency. Schools take advantage of SIPS in modular classroom buildings along with features like efficient HVAC and EPDM roofs to save money on energy bills.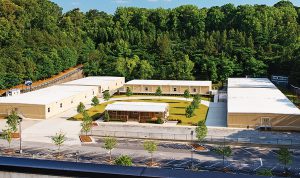 Mobile Modular's Campus Maker Eco Modular Classroom contains steel stud walls with R-26 SIP insulation.
Mobile Modular has been at the forefront of green construction and adopted several eco-friendly methods of construction, including the adoption of SIPs. We offer eco-friendly modular classrooms and other buildings for rent or sale. Find out how we can make your school or business more energy efficient. Request a quote or call us today at 877-221-2813.