Green modular classrooms are bringing eco-friendliness out of textbooks into the world for students. How cool would it be if kids, who learn about reducing their carbon footprint, could study in a truly energy-efficient classroom? With the Mobile Modular Campus Maker mPlex, our unique modular classroom design, schools can get green classrooms that won't break the budget and provide long-term value.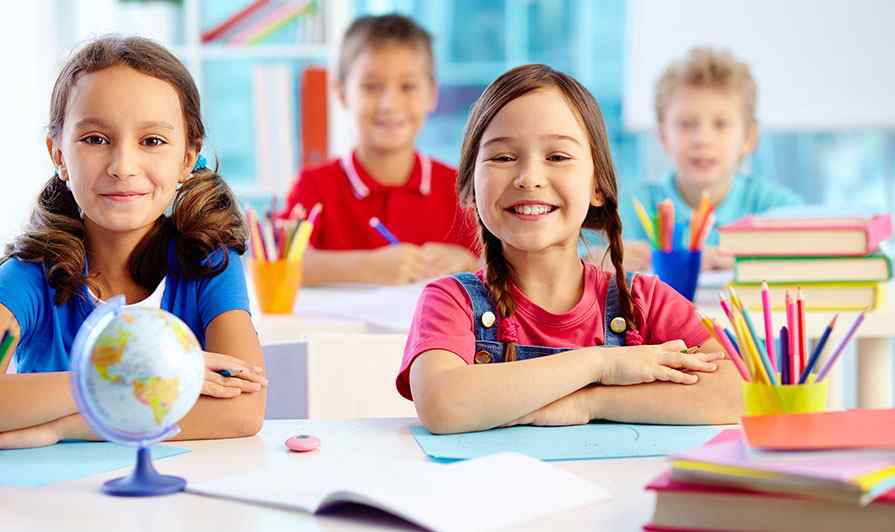 How are modular classrooms energy efficient?
Green modular classrooms, like the Campus Maker mPlex, are designed to be energy efficient in many ways. This energy neutral relocatable classroom truly delivers on high energy efficiency.
1. Energy Efficient Design Floors. Our green modular school buildings have floors insulated with a vapor barrier according to International Energy Conservation Code (IECC) standards, so that classroom's energy efficiency and durability are improved. The Campus Maker mPlex classroom also comes with multiple finish flooring options.
Walls. The modular classrooms design has walls with permanent construction quality, plywood sheathing, a commercial-grade, heavy-duty vapor barrier, and insulation in accordance with IECC standards.
Windows. Windows can really impact the energy efficiency of your school building. Our vinyl dual pane windows have low E-glass to facilitate reflection of radiant energy, reducing heat gain and loss of energy. They also provide better natural lighting for an enhanced learning environment.
Roof. The roofs of our energy efficient modular classrooms are insulated, EPDM roofs and their transverse sloping design diverts rainfall away from exterior openings like doors and windows.
Restrooms. Every one of our green modular school buildings has restrooms with standard epoxy flooring. This flooring can handle the traffic abuse from hundreds of students over the years.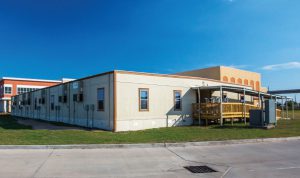 2. Energy Efficient Features. These standard green features in our Campus Maker mPlex enhance the energy efficient design:
HVAC
Our energy efficient classrooms have a high-efficiency HVAC system and intelligent energy management system for a well-ventilated interior.
Automatic temperature, humidity, and fresh air exchange controls.
Materials
Natural fiber insulation which contains a high percentage of recycled materials and saves energy.
Locally sourced materials when available.
Water
Low flush toilets with smart valves, which conserve water, especially useful in states with strict water regulations.
Automated faucets.
Automated paper towel and hand soap dispensers.
Light
Passive shading devices, which reduce building heat gain and increase the natural lighting quality.
LED fixtures and lamps that save energy long term.
Tubular daylighting system, which is an energy efficient way of using the sun's natural light from sunrise to sunset.
Energy
Tankless hot water heaters, which supply hot water only when required, reducing standby energy losses.
CO2 monitoring system.
UVC (Ultraviolet germicidal irradiation) light for HVAC condenser cells, which reduces energy use, decreases system maintenance costs, and provides cleaner, healthier air.
How do modular classrooms save money?
If you're a school looking to save money on building new classrooms and throughout the lifetime of a classroom, our Campus Maker mPlex is the perfect choice for several reasons.
1. Flexibility. Our Campus Maker mPlex units are expandable. This design capability offers a range of configuration options, so you can reconfigure classrooms to suit your needs. Create restrooms, administrative offices, libraries, music classrooms, labs and more without spending more.
2. Energy Savings. Energy efficient designs and features of our modular classrooms save schools money on operating costs, including maintenance and energy bills.
3. Space Savings. The innovative side-by-side classroom installation of the Campus Maker mPlex creates a compact and efficient learning environment.
4. Time Savings. Campus Maker mPlex is a one-stop solution that schools can set up in only a few weeks. Get an energy efficient school building without the hassles of traditional construction delays. The Campus Maker mPlex is, without doubt, a blueprint for the eco-classroom of the future – sustainable, cost-effective, and with quick installation. This energy neutral modular classroom comes certified to meet all building code and accessibility standards in numerous states, including Texas, Oklahoma, Arkansas and Louisiana. If you're interested in learning more about our green custom modular classrooms, request a quote today!