In the fall of 2014, there were 50 million1 students enrolled in schools across the country. In just one academic year, enrollments increased with over 200 thousand more students in the school system. With little time to accommodate for so many new students, educational institutions have begun to turn to modular school construction. Modular classrooms are the economical, quick solution for overcrowded schools, while still providing a quality learning environment for students of all ages.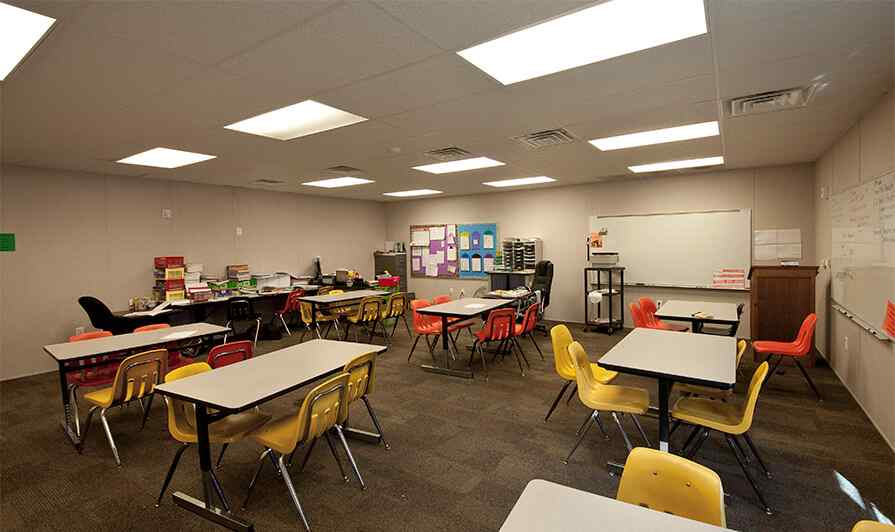 Technology has come a long way in modular construction. Buildings are safer, healthier environment, and built with quality materials. Here are a few facts to put apprehensive parents at ease about portable classrooms and modular school buildings:
Safety. A child's safety is every parent's primary concern. Modular buildings, even single rooms, are built to the same building codes and follow the same regulations of site-built buildings.Modular construction requires that constant, meticulous quality checks and testing are performed every step of the way to make sure the final product is up to the highest quality.Modular Building Institute (MBI) member Daniel Arevalo explained, "No building (modular or traditional) can be sold, leased, or rented before it is thoroughly inspected by the appropriate State or local  Agency having authority and is built according to the International Building Code (IBC).Schools are subject to routine safety inspections conducted by local governing bodies to ensure that all buildings, including mobile and modular classrooms, are always up to code."
Health. The evolution of modular construction allows for improved insulation, better indoor air quality, and quieter environments. These advancements are built into each unit to create healthy, comfortable, and quiet classrooms."Modular construction includes top of the line radiant heat barriers as well as increasing the R-value of all insulation in order to reduce temperature fluctuations, thus reducing the HVAC and electrical loads and recurring maintenance costs," said Arevalo.Studies conducted by the Washington State University2 on portable classrooms proved modular classrooms have become more energy-efficient than in the past. How are most modular construction companies improving energy-efficiency? By installing top-quality HVAC systems in all their buildings! HVAC systems increase indoor air quality and work to maintain temperatures efficiently. To combat the issue of noisy HVAC systems, many school districts opt for roof-mounted, or pad-mounted, HVAC equipment.
Quality. Many parents are under the impression that their children will be studying in an inferior environment if they are in a modular classroom. However, modular construction companies understand the unique needs for classroom accommodations and equipment.
Currently, we offer top-notch opportunities to help create more space for growing schools and stay on top of relevant technology in the classroom. These modular classrooms can be fully equipped with Chromebooks, projectors, smart screens, high-quality internet, secure charging ports, etc.
Modular classrooms are exceptionally made and can be used as permanent buildings. However, modular structures and portable classrooms are usually only a temporary solution to a school's expansion needs.
Schools eventually expand permanently, however this is a time intensive process and schools still need a solution for this transition. While a new campus is being prepared, these portable classrooms are the next best option to cater to the needs of all students and prevent a break in the school year.
To find out about pricing for modular classrooms to rent, lease, or buy, request a quote.
Resources: