Enrollment in charter schools over the last 10 years has tripled with extensive wait lists. In fact, there has been a seven percent growth in charter school system enrollment between Fall 2015 and Fall 2016. The charter school movement today finds itself facing at least three distinct challenges from so much growth.
1. Limited Facilities. Charter schools face the challenge of limited growth when there are no classrooms left to place students. For example, 63 percent of charter schools in California want to expand but are unable to because of constraints in available and suitable facilities.
Solution: Since
tight budgets pose a great challenge, charter schools are looking for leasing infrastructure options. In fact, a recent survey shows that about 66 percent of charter school facilities are leased. Among this number, a large percentage of charter schools are opting for modular buildings. Leasing modular school buildings provides financial flexibility for charter schools to fit cost-effective modular building leases into their monthly budgets.
2. Managing Growth. In the 2016-17 school year, there was reported more than 6,900 charter schools, with an estimated 3.1 million students. This number has significantly increased year over year, signifying how charter schools are being a large component of the American school system.
Although there have been much debate surrounding charter schools, a national survey of parents with school-age children reveals that 78 percent of parents support having a charter public school open in their neighborhood. And 73 percent of them feel that there should be more charter schools across the nation. This means another potential 2 million students whose parents would enroll them in charter schools.
Solution: To get ready for the potential of so many more students, schools will have to do more with less. Portable classroom buildings can be a more cost-effective and timely solutions to meet these growing needs. Since prefabricated classrooms are built offsite, they can be assembled on the existing school campus without much delay, or disturbance to the school operations.
3. Lack of Funding. Charter schools typically receive a grant to get started, after which they receive limited monthly funding on a per pupil basis. However, they continue to receive significantly less revenue per student than other public schools, as much as 36 percent less. In spite of the lack of funds, they offer longer school days and longer school years.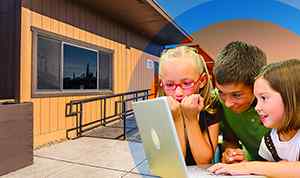 Solution: Portable classrooms and modular school buildings are a cost-effective option for charter schools on a tight budget. These modular buildings provide more than just basic classroom space. They are ideal for science rooms, libraries, cafeterias, computer labs, and a lot more. Leasing modular school buildings takes the pressure off spends and schools get prefabricated classrooms that meet state building codes. Charter schools also stand to benefit from special classroom technology offers that further discount prices.
Charter schools can partner with Mobile Modular to lease modular school buildings to meet their growing needs for space. Request a quote today.