The Occupational Safety and Hazard Administration (OSHA) says that one of the root causes of workplace injuries and deaths is the failure to recognize hazards. Increasing awareness of construction site hazards will help the approximately 6.5 million people working avoid injuries at around 252,000 construction sites across the nation. So here are the top 10 workplace safety hazards:
1. Falls. Falls are the most common workplace safety hazards. Researchers at Center for Construction Research and Training have found that falls accounted for 42 percent of fatalities between 1982 and 2015. Most falls occur during the first two months on a job, so instilling safety awareness in new workers goes a long way in preventing fatalities.
How to prevent falls
Most fall results from unstable work surfaces. Securing walkways and installing guardrails, securing scaffolding, and utilizing personal fall arrest systems are a few common ways to prevent falls.
2. Struck-By. Struck-by hazards are one of the Focus Four construction hazards identified by OSHA, with construction struck-by deaths up by 34 percent between 2010 and 2015. Construction industry deaths rose six percent in just one year from 2015 to 2016, according to the 2016 Census of Fatal Occupational Injuries (CFOI) from the Bureau of Labor Statistics (BLS).
How to prevent it
Prevent injuries from flying, swinging, falling, and rolling objects by taking a few simple precautions:
Wear a hard hat at all times
Avoid standing underneath active work sites
Secure tools and materials using toeboards, screens and debris nets
Stay clear of swing radius
3. Caught In Between. Construction sites are full of heavy equipment and vehicles. Caught in between accidents are also among the Focus Four Hazards, and the Center for Construction Research and Training reported that more than 275 construction workers between 2011 and 2015 died in caught in/between incidents.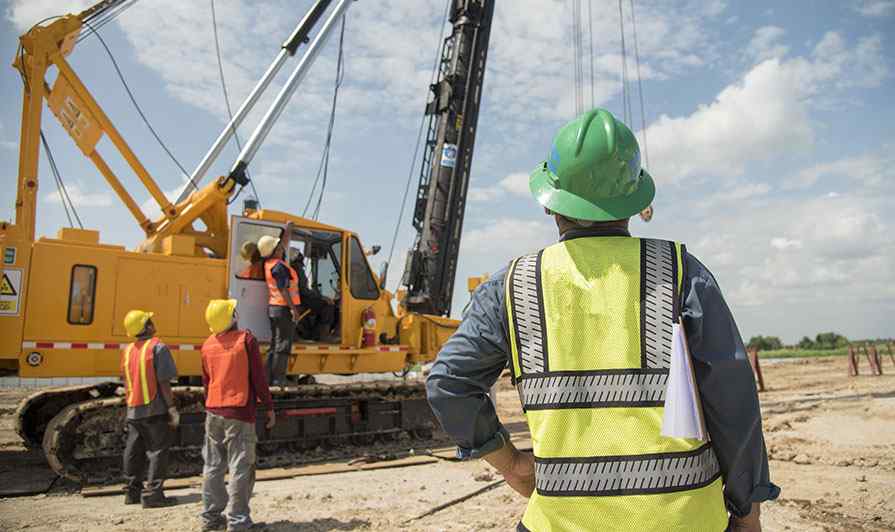 How to prevent it
Prevent caught in between accidents by:
Familiarize yourself with equipment to know where all the pinch, sheer, wrap, and crush points are.
Shutting down equipment before inspection or repairs.
Respecting barricades.
4. Electrocutions. Electrocutions are a construction workplace safety hazard and one of the top four construction hazards identified by OSHA.
How to prevent it
To prevent injuries and fatalities due to electrocutions, workers should locate utilities before starting work. While operating equipment, workers should avoid any overhead power lines, and make sure that all electric tools are grounded or double insulates.
5. Exposure to Silica Dust. Silica dust particles are pretty dangerous. These minute particles, almost 100 times smaller than sand granules, are caused by cutting, blasting, and grinding materials like concrete, brick, and stone. They are responsible for causing life-threatening respiratory diseases like silicosis, lung cancer, and chronic obstructive pulmonary disease. Silica dust is so dangerous that OSHA has time and again revised its rules regarding silica. The new silica standard reduces permitted exposure from 250 micrograms per cubic meter of air over eight hours to 50 micrograms over the same time.
How to Prevent It Minimize exposure to silica dust, by using water sprays, ventilation systems, and blasting cabinets. Always check the label for silica when working with new material. If Silica is listed, then take a look at the products Safety Data Sheet for more information about how to handle the material.
6. Hazards to Eyes. Flying particles, molten metal, caustic liquids, and chemical gases or vapors are common causes for eye irritation and injuries. However, proper eye protection can prevent about 90 percent of eye injuries.
How to prevent it
Wearing safety glasses, goggles, or face shields, and don't forget to rush, shake, or vacuum dust from hardhats, hair, forehead, or your brow before removing protective eyewear.
7. Exposure to Noise. Construction has one of the highest prevalence of occupational noise exposure. Extended exposure to loud noises can cause deafness. OSHA's limit of 90 dBA is often exceeded by noisy construction tasks like welding, grinding, chipping concrete, demolition, and others. Tools like cutters, hand power saws, roto hammers, rattle guns, and drill motors have average noise levels of over 90 dBA.
How to prevent it
Ear protection comes in multiple forms. Generally, noise blocking ear muffs or ear plugs are the most common form of protection. Workers can also reduce hazardous levels of noise exposure by limiting time performing tasks that create high noise levels.
8. Snake and insect bites. Working outside on the roads, in fields, and confined spaces often mean that construction workers accumulate bites and stings. While most insect bites are harmless, it is possible to contract diseases like Lyme disease and malaria.
How to prevent it
Avoid bites by wearing long-sleeved clothes and closed toed shoes when working in vegetated or wooded areas. Spray repellent on clothing and exposed skin to help avoid unwanted insect bites. It's also important to remember not to disturb or move nests and avoid placing hands in holes where snakes could be hiding. Construction workers face these workplace safety hazards daily. However, there is a growing sector of the construction industry that can avoid many of these hazards – modular construction. Since buildings are developed in a controlled factory environment with strict construction procedures, workers are shielded from many common workplace safety hazards. If you'd like to learn more about modular construction and buildings, call us at 877-221-2813 or contact us today.