Our world is in constant need of thought leaders, innovators and scientists to create new solutions to a growing list of problems. However, international math and science assessments show that U.S. students are not performing as well in STEM subjects compared to many other advanced nations. Recent scores from Programmed for International Student Assessment (PISA) ranks the U.S. 38th out of 71 countries in math and 24th in science.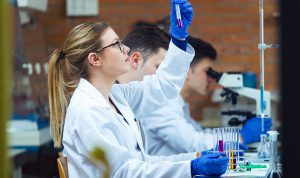 It's time for schools to find better systems for encouraging students to pursue science, technology, engineering and math.
How can schools inspire students to pursue STEM subjects?
1. Make STEM relevant. 
Times are changing. Students in middle school and high school have grown up with technology in the palms of their hands, but many schools do not incorporate technology into their curriculum. This can discourage students from engaging in STEM subjects, since the learning material lacks relevance to students' lifestyles and technological advances in STEM fields.
Teachers need the tools to engage students where they are and show them how STEM subjects are relevant through applications like gaming. For example, teachers can use games like Angry Birds to discuss mathematical calculations. A student can figure out the trajectory of an Angry Bird in the sky and how to ensure it comes back to the ground. When you think about it, the list is endless: Sonic's speed in Super Mario or drifting at 80 mph in Need for Speed are further examples of gaming material teachers can use to keep a class engaged.
2. Provide immersive STEM experiences. Learning goes beyond the classroom. Field trips are an important part of every student's education. Immersive learning experiences at museums or organizations like NASA bring to life the material students learn in class.
The U.S. Department of Education has a 21st Century Community Learning Centers program, which works with organizations like NASA, the National Park Service, the Institute of Museums and Library Services to bring high-quality STEM experiences to schools.
Many museums and centers also have the resources to build a field trip itinerary and construct engaging learning material. For example, the Museum of Science in Boston provides field trip guides, activity sheets, educator guides and projects. Most museums in major cities provide similar resources.
3. Implement makerspace. Makerspace is a designated area where students have space to create. Although Makerspace is not a part of core STEM curriculum, it provides students with a place to pursue their own projects and ask questions they might not ask in class.
Schools only need to set aside a classroom or section of a library equipped with tools like sewing machines, calculators, papers, a 3D printer, or a laser cutter. For more information, check out Lindsey Own' blog. She is Maker teacher with quality advice on developing makerspaces.
Schools can even set aside time for students to use Makerspaces between semesters, after/ before school time, or during summer school. To encourage students to participate, post challenges like the Global Cardboard Challenge, in which students around the world are challenged to make something out of just cardboard and recycled materials.
4. Implement more project based learning. Project-based learning is a method of teaching that encourages students to acquire deeper knowledge through complex problem solving or through investigation, exploration and creation of a product. This encourages students to apply what they have learned in their STEM classes to find solutions to problems they see in their schools or communities.
Project-based learning is a student-centered, interdisciplinary and fun. Students also learn how to manage their time, reflect on their learnings and make important decisions. In short, it is a perfect example of John Dewey's 'learning by doing.'
Implementing more projects in the classrooms gives students an enjoyable method for applying and proving what they have learned, instead of just memorizing material for exams, which can discourage many students from continuing to study STEM subjects.
5. Build interactive science labs. Many schools have constrained budgets and can't afford well-equipped labs, so students don't get to spend quality time learning STEM subjects using kinesthetic methods. However, science labs are instrumental in engaging students in STEM classes.
Schools can build affordable alternatives to the traditional science laboratory with modular classrooms. Customized, modular science labs allow schools to create dedicated learning spaces to help students engage in STEM subjects without going over budget.
For schools that already have well-stocked laboratories, consider taking engagement to the next level with virtual laboratories. Labster is a Danish company that develops virtual reality science laboratories with virtualized lab equipment in software simulation. It's like a flight simulator, but for science students. For instance, it has a fermentation simulator that allows students to change different parameters affecting cell growth.
Teachers and educators know that each student has the potential to change the world. It's up to every school to foster each student's potential and encourage curiosity to motivate innovative, young minds. Engaging students in STEM classes can kindle a passion for subjects that students never knew they liked before.
Mobile Modular has been invested in school construction for over three decades. We have helped schools find solutions for unique problems and create flexible and adaptable learning spaces of the future. Learn how we can help you set up customized makerspaces or science laboratories for your school. Request a quote today.