Did Someone Say, Optimization?
When it comes to choosing modular buildings over traditional construction, one overarching word comes to mind: optimization. More succinctly, modular buildings optimize time and resources — music to the ears of any owner, developer, or architect needing to give clients the most cost-effective solutions.
Essentially, modular construction moves site-built methods indoors onto the assembly line, for a vastly safer and more efficient process that allows for endless customization and creative possibilities. No matter the size or type of building you're planning, modular construction will be more efficient, ready faster, produce less waste, and minimize environmental impact.
Time = ROI
Obviously, the faster you can complete a building, the sooner you can get that revenue stream flowing and see faster ROI. Whether it's a house a developer wants to sell or a hotel with rooms to book, modular drastically reduces construction times. In some cases, you'll see up to 50 percent faster completion times than with traditional construction!
Top reasons modulars lead to speed include:
Simultaneous work

: Modular units are manufactured off-site concurrently with site preparation so that by the time the modules are ready for installation and placement, the foundation is poured and leveled and plumbing is in place.

Fewer delays

: When construction happens inside a factory setting, all vulnerability to adverse weather and subsequent delays are eliminated. Further, because materials and equipment are safely and securely stored inside, you're far less likely to experience delays due to theft or damage.

Practice makes perfect

: Repeated large-scale production will necessarily be far more efficient than one-off methods. A factory setting is designed not just for efficiency and speed but also for a honed, precise product with higher quality controls in place.

Inspections, certifications, and codes

: In a factory setting, all required third-party inspections are performed as an integral part of the assembly process. This removes the possibility of problems arising during the inspection, thus stalling the process.

Smoother process overall

: The National Institute of Building Sciences reports that permanent modular construction projects will have "statistically fewer change orders," thereby reducing the number of bumps or delays across the building process.

Worker safety

: Because all construction takes place in the highly controlled indoor factory environment, adherence to safety standards is far better managed. Workers are less likely to suffer injuries that can impact the overall project schedule. And social distancing is easier to achieve in a factory setting over a less organized traditional construction site.
If the idea of having your building up and running in days rather than weeks is appealing, modular is the way to go.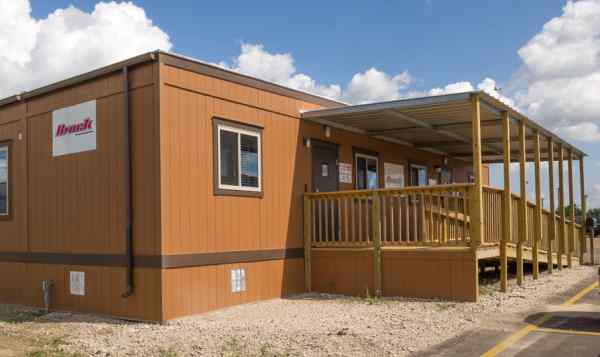 Greener, Faster, Better
When it comes to sustainability, modular construction is the clear frontrunner. Not only are modular construction methods better for the environment, but the structures themselves can also be easily designed and built with maximum energy efficiency in mind.
Today the construction industry is seeing a paradigm shift, one in which the traditional construction methodology of bringing materials to the site and then constructing is turned on its head. Modular building brings the structure itself to the site.
Any type of building can be built modularly, anywhere, from apartments to hotels or commercial spaces. No matter the size or type, this inversion of methods is equally sustainable for a number of key reasons.
Less waste

: The large-scale, repeatable assembly process of modular building is honed and refined with each consecutive iteration. The results are high efficiency with far less waste generated. Inventory and materials are more controlled and protected, reducing the likelihood of damage from the elements.

Reduce, reuse, recycle

: Recycling is also a key factor of modular construction. Leftover materials from one project can easily be used for another, reducing the need for raw materials. Plus the units themselves are relocatable. Once they have fulfilled one purpose they can simply be moved to a new location to serve another or taken apart and reconfigured.

Energy efficiency

: Factory design and assembly translate to a greater level of quality control, so modular components feature tighter seals for high-performance, precise indoor climate. And because materials are protected from elements, such as rain, materials stay dry, ensuring potentially better indoor air quality over traditional construction.

Less disruption

: Anyone who works or lives near a construction site knows how noisy and disruptive it can be! With modular, all that noise is contained inside the factory. At the site itself, you need far fewer personnel and much less time to set and join the modules on-site, significantly reducing the impact on the surrounding environment.  
Modulars: Flexible Solutions for a Changing World
Recent demand for "tiny" homes has fueled the modular construction industry, but it was the pandemic that put demand into overdrive, with consumers looking for faster, cheaper, more flexible housing options to accommodate a newfound pandemic work-from-home lifestyle.
But going forward, it will be their numerous advantages, from quick, clean installation to rapid design and engineering time, energy and cost efficiency, sustainability, and sleek modern designs that make modulars most desirable. Modular construction gives you the versatility to meet the challenges of today's world and adapt to whatever the future holds.