The National Aeronautics and Space Administration (NASA) is responsible for the high-profile, United States' civilian space program, and for aeronautics and aerospace research. Headquartered in Washington D.C, NASA employees more than 17,000 people in 18 space centers and facilities across the nation.
Government agencies like NASA pioneer in cutting-edge projects that require their finest efforts. To achieve regular progress and consistent success, NASA engineers, scientists, and administrators need state-of-the-art infrastructure, tools, and facilities that let them work with minimal interruptions. No wonder modular buildings are on their list of workspaces.
Here is how NASA's national space flight laboratory, Goddard Space Flight Center in Maryland, acquired a modernized modular office for a new branch of the Hubble Space Telescope program.
The Goddard Space Flight Center in Maryland is at the epicenter of America's space exploration efforts. To support a new Hubble Space Telescope endeavor, NASA wanted a modern modular space to house the team's 30 scientists and administrative personnel.
One may ask, why did NASA choose modular construction for the Goddard Space Flight Center facility? NASA believed in the modular building advantage and decided to go modular with us.
Here are the key benefits our modular buildings delivered to NASA's Goddard Space Flight Center:
1. Reconfigurable Workspace: Buildings must meet the changing needs of any organization. Office buildings made by traditional construction are usually unable to evolve as a company does. An increasing number of institutions today realize the need for adaptable buildings that can change to meet their future space needs. Science organizations like NASA often require workspaces that do not have exposed support structures or posts, which consume precious space.
Mobile Modular Solution: We delivered 'clear span' roof truss beams for the NASA modular building that would allow for more workspace with reconfigurable units for future organizational changes.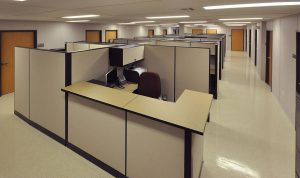 2. Sustainability: Organizations around the world see the need to reduce their carbon footprint. Modular buildings are known as a "greener" option compared to traditional buildings for several reasons.
First, modular buildings are developed in controlled factory settings, where there is less waste, avoiding on-site pollution, and disturbance. Second, a factory setting enables a company to efficiently recycle materials. Finally, the modular building itself can be recycled and reconfigured to be used in another location.
Mobile Modular Solution: Mobile Modular embraces LEAN practices. We recycle materials in the production of each modular unit. Our newest modules offer green technology in heating, ventilation, and air conditioning (HVAC) with intelligent energy management systems. Mobile Modular strives to be environmentally responsible, so our buildings are an obvious choice for forward-thinking organizations such as NASA.
2. Meeting Tight Deadlines: Time is money. Everyone knows that delays in project deadlines result in significant losses for government organizations. For the NASA modular building project, a tight two-month deadline included demolition of the existing structure as well as the installation of the modular building.
Mobile Modular Solution: A smooth demolition, clearing of debris, and installation took place on a tight timeline. In fact, the modular project took just 21 days to complete. This ensured that NASA's Hubble team got a new home to continue their brilliant work in the quickest timespan possible.
Several government organizations like NASA face the difficult task of building new offices on short timetables. Here's where Mobile Modular can offer both government organizations and private businesses modular solutions for their office space.
Apart from office spaces, modular buildings are also great solutions for the following important structures:
1. Computer and Science Labs: Advances in technology and the need to house multiple roles in the same space, call for flexible labs and research areas that can be easily rearranged. Modular science labs are an ideal option when you want to construct future-ready facilities that can't afford timelines offered by traditional renovation techniques.
2. Restrooms and Cafeterias: Any major organization undergoing expansion or renovation will appreciate the quick installation of essential spaces like restrooms and cafeterias. These structures are also rentable for temporary use.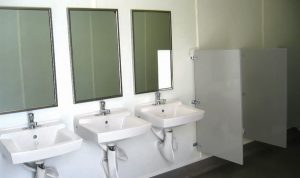 3. Libraries: Public schools and institutions that need a secure modular space can use modular buildings that can be delivered quickly.
4. Sales Offices: Modular sales offices and mobile office trailers can be set up quickly, so you can start operations right away and begin realizing ROI. Our offices can be customized easily to meet your company's unique needs.
One of the greatest advantages of modular buildings is the high degree of customization. Our modular structures can be designed to suit your needs every time. Mobile Modular specializes in offering great modular solutions for a variety of industries like retail, construction, government, and more.
Get the customer satisfaction NASA experienced with us - request a quote to find out what our modular building experts can do for you today!