The Safe + Sound Week 2018 is a national initiative organized by the U.S. Department of Labor's Occupational Safety and Health Administration (OSHA). The Safe + Sound Week was conducted this year from August 13-19. This event raises awareness and understanding of the importance of health and safety programs among workplaces across America and encourages them to commit to workplace health and safety. The health and safety programs include worker participation, management leadership and promotes a systematic approach to find and fix workplace hazards.
Why participate?
Successful implementation of workplace safety and health programs can effectively reduce injuries and illnesses. This will help your business improve worker satisfaction significantly and reduce costs associated with workplace injuries. These factors not only make your workplace safer but result in enhanced productivity.
Who should participate?
Any organization wanting to showcase its commitment to safety for workers, the public, customers or partners can participate in Safe + Sound Week. More than 200 organizations are partnering with OSHA to promote the event.
How can you participate?
Your organization can participate by conducting safety-focused activities for your employees. You can host events exclusively for your workers or even conduct public events for community engagement. Include at least one activity in Management Leadership, Worker Participation, and Find and Fix Hazards. You can either select or customize the activities suggested by OSHA health and safety program or get creative and come up with your own program. The activities should have a systematic approach to ensure maximum success and participation, and can be of various types and duration such as: One-hour safety activities
Sessions where workers can share health and safety concerns and their ideas for solutions.
Joint analysis of OSHA injury logs by managers and workers to determine the types, causes and circumstances of past incidents.
In-person/virtual talks by top managers discussing their commitment towards health and safety in the workplace.
Half-day safety activities
Managers can conduct walk-throughs of all work areas and discuss with workers regarding their safety concerns and probable improvements. They can share these findings with managers and workers in a wrap-up session.
Observe safety practices throughout the week and recognize workers using the best practices.
Hold a contest for submitting health and safety improvement suggestions and recognize them with prizes.
Swap the work stations among co-workers or managers from different organizational areas so they can identify and list the hazards in new areas and brainstorm how to address them.
Whole day safety activities
Form a health and safety committee representing a range of organizational job functions. Define the program objectives and the process of measuring them and create or update a safety and health policy to reflect worker input, current hazards and
Plan day-long training for workers and managers to review and discuss safety procedures and policies, conduct safety demos and safety perception surveys, invite experts and arrange question-answer sessions.
Workplace safety in the construction industry
Construction worker safety has seen some renewed focus recently. The National Safety Stand-Down 2018 event took place during May 7-11 and was aimed at raising safety awareness in construction sites across the United States. OSHA organized Construction Safety Week in partnership with various organizations. Commercial construction companies, safety equipment manufacturers, highway construction employers and even the U.S. military previously participated in the event. Today, 63 percent of deaths in the construction industry are highly preventable and are caused by the fatal four – falls, struck by object, electrocution and caught in between two or more objects. Regular safety events emphasize checking hazards and taking preventive measures to minimize such incidences.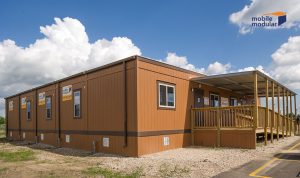 Modular Buildings – Increased safety for construction workers
When it comes to worker and structural safety, there are a range of reasons that give modular construction an upper hand over their traditional counterparts.
Modular buildings strictly follow the codes and safety regulations like buildings constructed on site.
As 90 percent of the construction takes place indoors, the material does not undergo any wear and tear during the construction process.
Each component of the modular building is designed, developed and pre-assembled under a controlled factory environment, undergoes stringent QA/QC check and is subjected to strict on-site compliance inspections by internal and external teams.
The modules are sturdy, strong and are designed to withstand long travel.
Since the complex assemblies can be completed off-site, modular buildings are safe to construct.
With a controlled factory setting, assembly line-like processing, reduced off-site traffic and established safety protocols; accidents involving the fatal four are significantly reduced as expected by the programs in OSHA Safe + Sound Week.
Modular Mobile is a leading provider of modular buildings with unmatched quality. Every successful modular building delivery is made possible because of our excellent team and it's our duty to improve workplace safety of our employees. For more information about modular buildings, contact us or request the quote.