Schools, in general, are experiencing increasing enrollment, but among the fastest growing sector is Charter Schools. According to the National Center for Education Statistics (NCES), in the past decade or so, public charter school enrollments have gone up by 1.7 million. The number of charter schools across the country has increased by 3,500. Overall trends indicate that enrollment size in charter schools has increased a great deal from the school year 2003-04 to 2013-14. The percentages of public schools that were charter schools with an enrollment size larger than 300 increased.
With this upsurge in enrollments, schools are looking everywhere for a solution to accommodate the urgent need for more classroom space. Often, the solution lies in temporary buildings while full projects are completed. But there are many options to consider when taking on a project like that and still providing a modern approach to classroom teaching and learning. Here is what you should keep in mind while strategically planning for a growing enrollment.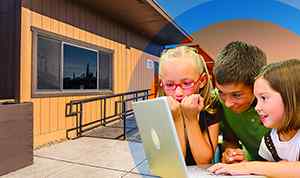 Are You On Top of Modern Advancements in Education?
Technology has become a large part of education and is being incorporated in schools across the world. So much so that it is now almost impossible to teach a class without using an electronic device.
Bringing different types of technology into teaching environments not only makes learning more interesting, but it also provides stimulus to many senses at a time, resulting in a more lasting impact on the student. Technology allows for more interactive classroom sessions by spurring discussions and keeping the students engaged on all levels.
Furthermore, audio-visual teaching aids, innovative teaching techniques, and the use of apps in teaching caters to all the different types of learners you would find in a classroom; auditory, visual, kinesthetic, and audio-visual learners.
Recognizing this need to impart a more wholesome educational experience to students, a lot of schools are doing their best to make their classrooms technology-friendly.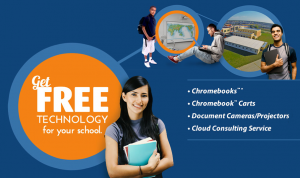 How Mobile Modular Can Help with Space Issues and Technology
Mobile Modular offers a variety of classroom rental plans that can adapt to any budget and enrollment size. These plans are highly flexible and can be modified to fit your needs. Our modular classrooms can be installed quickly, are highly energy-efficient, are made with materials of the highest quality, and are surprisingly affordable.
Furthermore, since all our buildings are manufactured offsite, your school routines will remain uninterrupted for the entire duration of the installation. We pride ourselves in swift work and quick delivery to allow you to temporarily (or even permanently) address any space issues that you may find while planning to accommodate a larger student population.
At Mobile Modular, we can combine the issues of expanding your educational space as well as fulfill any ideas you would have to incorporate more technology into your teaching setting with our new FREE technology promotion.
We are able to provide private, charter and higher education schools the potential freedom to build their own innovative classrooms. With the rental of our portable classrooms options, we are offering a choice of free technology products that you can select to enhance your learning environment.
You can receive five percent of the total rental dollar amount (or up to $5 thousand) in the following products:
-Chromebooks™
-Chromebook Charging Carts
-Cloud Consultations
-Projectors
-Document Cameras
We invest in your journey to providing the best possible education to your students and we understand that this can only be done with top quality classrooms that have ample space, are well designed, and are equipped to handle the different variety of educational technologies.
Contact us for more information about our educational promotional offer, or get in touch with us to speak with our sales representatives. We are happy to walk you through the offer so you can make the best choice for your school.    
Terms and conditions apply. Valid for new quotes initiated between May 16, 2016 and June 30, 2017. Offer valid for charter schools, private schools, and higher education facilities only. Acer Chromebook™ notebook computer, EPSON document camera/projector, Cloud32™/Cloud40™ Chromebook Cart or Cloud based consulting is offered for new projects only. Acer and the Acer logo are registered trademarks of Acer Inc. Chromebook™ is a registered trademark of Google, EPSON is a registered trademark of Seiko Epson Corporation, Cloud32™/Cloud40™ is a trademark of Spectrum Industries and does not sponsor, affiliate or endorse Mobile Modular products and services.