In any successful construction project, pre-construction planning is essential and is considered one of the most critical steps. Since this phase involves evaluating project elements before starting the actual work, one of the basics that need to be covered is assessing budget-impacts of design choices and optimizing them to ensure that everything goes as planned.
Benefits of

pre-construction planning
Pre-construction planning activities involve the identification of potential

risks

and their cost implications on the project. They help you work out a project's viability and completion time, saving you thousands of dollars in avoided potential pitfalls before starting work.

The process aims to provide an accurate scope and budget with the help of project timelines, scope analysis, site plans and elevations, engineering documents and equipment, and supply lists. It gives clarity on whether the project can be completed within the resources provided and constraints being dealt with.

The team can identify areas that need value-optimization and devise cost-effective ways to maintain the budget.

You can identify resource management tactics regarding labor, equipment and material

procuremen

t to ensure everything runs smoothly.

With all the required information on hand, you can make informed decisions and are better equipped for potential risks and challenges as well as prepared to reduce their impacts.
Planning pre-construction
Pre-construction planning involves the following stages. All of them are crucial and take place simultaneously with no definite order unless outlined specifically –
Initial meeting between the client and contractor -

 The main goal of this meeting is to work out the client's vision about the project and their thoughts on the budget. The contractor should start creating the rest of the pre-construction plan based on these. Subsequent meetings may follow.

Define project objectives - 

The contractor reviews the goals of the project, blueprints and architectural designs. The client is asked to submit any questions or issues that can become a problem during construction. The contractor provides answers to the client's queries and determines the feasibility of construction at the intended location with the information available on the potential site.

Project scope, budget and schedule -

 The contractor creates a complete and detailed project scope with types of workers, equipment and materials for each phase. He or she creates a budget with the information, adding contingencies and opportunities to save money in every part of the job. The contractor creates an in-depth project schedule with key milestones.

Initial schematic design - 

The initial schematic design helps to form the final products with updates suggested by the client.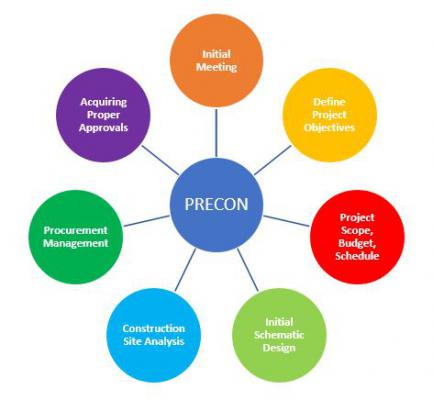 Construction site analysis -

 The contractor assesses the feasibility of a site by evaluating the soil, parking, traffic flow, capacity, landscaping and other factors and informs the client about any suggestions pertaining to these factors – like landscaping feasibility/design ideas, planning for the foundation, digging requirements, water availability, etc.

Procurement management -

 The material lead time is considered during the schedule to avoid unnecessary delays should certain materials take a longer time to obtain.

This step helps ensure the overall schedule is not impacted AND can be used to mitigate cost increases if critical material orders are delayed

Acquiring proper approval -

 The contractor must acquire proper approvals and building permits before the project can move forward.
Pre-construction planning tips
With proper planning, pre-construction helps in cut down costs and execution time significantly. Here are a few tips to make it go smoothly –
Identifying the right contractor is crucial for delivering quality output in the given schedule and budget. Big name contractors may not always provide the attention necessary for your project. On the other hand, the lowest bid contractors can be risky when it comes to quality, payment to second-tier subs, maintaining timelines and budget. It is important to make sure you get a contractor that you consider reputable in order to get the best results.

Consider a payment and performance bond as a means to provide additional security for the owner, helping ensure a "right" contractor is selected.

Having comprehensive bid documents and a detailed schedule ensure accurate material take-off and pricing. Having a schedule could also prevent cost and scope from increasing because the sub will be contracted early to meet deadlines. This could lower contingency costs in the sub-contractor bid-price and prevent change orders.
Identification of and coordination with all involved parties at an early stage facilitates the timely resolution of issues and ensures successful project outputs.
Assemble a critical flow chart for permitting requirements and distribute to the design team. This will help to set the pace for design reviews, break-ground date and completion dates. Scheduling a meeting with the City Manager or an equivalent

AHJ (Authority Having Jurisdiction)

to ensure he or she understands the requirements with the time frame is highly recommended.
Identify the risk factors that need to be taken care of in the early stages – this will help link them to the design and budget. It is a great idea to have a pre-construction planning checklist to avoid missing any critical aspect during the process.
Diligent pre-construction planning is key to a successful construction project with high-quality outputs within the defined time and optimum budget. Besides planning for precon, modular construction offers similar benefits because of the nature of operations –
Modular construction by its very nature is based on a pre-planned design, development and customizations, making a lot of the benefits of pre-construction an integral part of it.

In modular construction, structure fabrication takes place at the construction facility and then later installed at the project site. In the meantime, the project site can prep for structure installation. These two processes can happen at the same time, unlike one after the other in a traditional construction method, which could reduce project lead time by as much as 50%. In addition, with the ability to install the structure at the site with minimal construction, there is less clean up, and in turn, reduced site downtime.

Modular construction involves a range of materials, systems, manufacturing and fabrication methods, and this social and technological innovation results in efficient management of fewer labor resources. Studies have shown that labor productivity increased 30

percent

on off-site projects in comparison to traditional construction projects. 

Shorter project duration could also mean less cost! Modular construction can cost a fraction of the price compared to a traditional construction project.
Over and above these comparative factors, modular construction offers portability, standardization, higher safety and eco-friendly features over site-built constructions. For more information contact us or request a quote.