Controversy about the quality and flexibility of modular construction in education has been a matter of discussion and debate. The skepticism has been created by the belief that these structures can't meet the needs that schools require.
Schools, however, are realizing the benefits that modular classrooms can offer them and are starting to look towards modular construction for their expansion needs. Skeptics are being silenced as more and more industries are proving that modular construction is the smart way to build. The controversy of modular classrooms is being squashed by the success of school campaigns that have utilized the many benefits of prefabricated buildings. For instance, Villa Maria Academy, a private school in Pennsylvania is a completely customized modular stand-alone structure that was completed in under a year.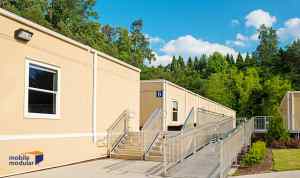 Many parents are starting to gravitate towards private schools for their children, which has resulted in increased enrollments in private schools countrywide. For instance, New Convent Academy in Springfield, Missouri reported that they had grown 43 percent in the past five years.1 Private schools across the country are reporting an increase in enrollments, which is creating an eminent need of expansion on space.  
Why Go Modular?
When all the facts are considered, modular buildings are actually an ideal solution for schools. Here's why:
-Compared to typical construction, there is far less debris, thereby reducing the risk of a safety hazard.
-Modular school buildings can be customized, inside and out, to fit the exact needs as the school administration deems necessary.
-Portable classroom buildings are very flexible. They can be easily expanded, modified, upgraded, and adapted to the needs of the school when their requirements change.
-Modular classroom complexes are greener than traditionally constructed buildings as a whole. They are made to be recycled. There is no -demolition involved; they simply need to be dismantled and relocated to serve a changing student enrollment. When the need arises, they can be touched up, reassembled and reused. Furthermore, they can be installed with top quality HVAC systems, energy efficient glass and solar panels to ensure complete energy efficiency. This significantly reduces long-term running costs for schools.
-Modular education complexes can also be rented or leased if your space needs are temporary, allowing you enough space with top-notch facilities while your school building is under construction or modernization program.
But Can We Trust Modular Buildings?
For those of you who are worried about the quality of modular structures, a quick look at how modular buildings are typically constructed should put your mind at ease.
Each individual room (section or module) of the building is manufactured independently inside a controlled factory environment.
Each component is quality checked at every stage before it is assembled into the final module.
Since the construction takes place indoors, the materials are not subjected to wear and tear due to change in weather.
Concurrently, the foundation is prepared on site.
When all the modules are ready, they are transported to the construction site.
Sometimes these modules travel long distances and therefore, they are all built to withstand extreme conditions during the journey. Simply put, these modules are very sturdy.
When the modules arrive on site, they are assembled according to the approved engineered plans on top of the foundation and then the utility connections are completed.
After a few final touch-ups, the building is ready for occupancy.
The factory environment allows for great attention to details and in-depth customization. You might be surprised by how these modular structures can be just as beautiful as traditionally constructed buildings.
In addition to classrooms, modular construction for educational buildings are available for a variety of applications such as administrative offices, multi-purpose buildings, computer and science laboratories, kitchen buildings, libraries, locker rooms and athletic facilities, media rooms, and restroom facilities.
Modular buildings are a cleaner, more efficient approach to construction. An added bonus to all this is that the very nature of offsite construction allows for a lot of savings for schools.
Wondering how much one of these buildings from Mobile Modular would cost you? Request a quote from us to find out!
http://www.news-leader.com/story/news/education/2016/07/04/two-springfields-largest-private-schools-expect-record-enrollment-fall/86284252/