Modular construction projects have been creeping up all over town in the form of houses, office buildings, hospitals, hotels, schools and even prisons. Builders all over the country are beginning to realize the advantages that go with modular construction when compared to traditional construction.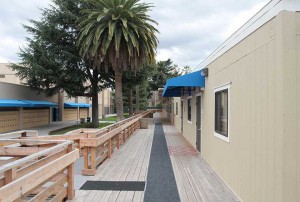 Portable Classroom for Rent[/caption]
The most appealing characteristics of modular construction are that modular buildings are easy to build, can be easily dismantled after use, have a significantly shorter construction time, are cost effective and are environment friendly. Be it an office or a hospital, modular buildings have plenty to offer in terms of efficiency.
However, there are some particularly attractive benefits of constructing modular buildings for schools. And here's why you should at least consider going modular for classroom construction.
1.Quick Construction. The biggest upside to modular construction is the accelerated construction time, compared to traditional construction. Constructing modular classroom buildings instead of traditional classrooms will significantly speed up the construction process and will cause zero to minimal interference to the everyday functioning of the school. Once the construction work is done, Modular Mobile offers customization of the classrooms according to your needs.
2. No Interruption in Classroom Routine. Offsite construction means that you can actually use the school while additional classrooms are being built in a factory. There will be absolutely no interruptions or delays in various classroom routines right up until the modules are built and have to be assembled on site, which can easily be done after school hours in a few short days.
3. Adapts to the Budget. Another defining characteristic of modular buildings is that you can actually opt for classrooms instead of brand new ones if you don't have the budget for them. There are actually a number of different options—new, pre-owned, temporary and permanent— that you can choose from depending on what you can afford. You don't have to put off adding a new art room or expanding the library simply because of budget constraints. Modular construction is very sensitive to budget constraints and can offer you the perfect solution to whatever your budgetary needs may be.
4. Flexibility with Space. Each individual module in modular construction is designed in such a way that it can be easily dismantled and reassembled if need be. If at any given time, a need arises for larger classrooms, it is simply a matter of dismantling and rearranging the individual modules to make the classrooms more space efficient. In extreme cases, new classrooms can be constructed offsite and can be promptly fitted into the building when completed minimal disruption.
5. Energy Efficiency. Since each individual module can be designed right down to the last details it is extremely easy to factor in energy efficiency. Schools buildings are made to maximize on natural daylight, use natural ventilation instead of circulated air and can also be designed to make use of solar power as much as possible. This significantly reduces bills and operational costs.
6. Add and Delete according to Your Needs. Modular classrooms can also sometimes be portable classrooms. Additional rooms like science labs, counselors' offices etc. can be added to the school as and when required in the form of leased portable classrooms and can be removed and company when no longer needed. This ensures that you are not paying maintenance for rooms that are no longer in use. It also allows you to "try out" certain additions and keep them long term if they suit your needs.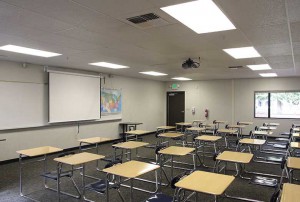 Portable Classroom Interior[/caption]
A school is meant to be versatile and flexible because it has to cater to new generations every so often. Modular construction allows the opportunity for schools to expand. After all, what good is a school if it can't cater to the needs of its students?
For all your classroom requirements get in touch with us today! Our in-house team offers our clients ongoing maintenance and meets requests for customization. With Mobile Modular, you can also have your modular classrooms equipped with free classroom technology. Through these services, we ensure our clients the best experience throughout their rental tenure