Every construction site needs heavy machinery during construction projects, but having this heavy machinery around increases the risk of accidents. Occupational Safety and Health Administration (OSHA) statistics reveal that in 2016, out of the total worker fatalities in private industry, 21.1 percent of incidents were in construction, while the "Fatal Four" amounted to over 60 percent of construction worker deaths. Bearing witness to these figures is the incident in Palo Alto, CA last July, where a paving company worker was killed after being run over by a piece of heavy machinery.
What causes construction machine accidents?
Commonly used pieces of construction machinery include excavators, backhoe loaders, bulldozers, skid-steer loaders, crawler loaders, motor graders, trenchers, common dump trucks, scrapers and other equipment like forklifts, telehandlers, rollers, cranes, etc. Although heavy machines make day-to-day tasks easier, some of the heavy construction equipment accidents are unpreventable due to the nature of the machine, while others may result from unpardonable negligence:
Malfunctions - When a machine fails to perform its job and loses control, it could result in a malfunction such as a machine dropping a heavy object on the workers below.
Rollovers - The machine topples to the side due to unstable ground, poor maintenance or the operator losing control over the machine.
Machine Collisions - Either a worker is pinned between the hard surfaces of the machine or is run over because of the operator's loss of control or when a machine is left running unattended.
Collapses - When the machine or crane buckles under the weight of its cargo and crumples to the ground.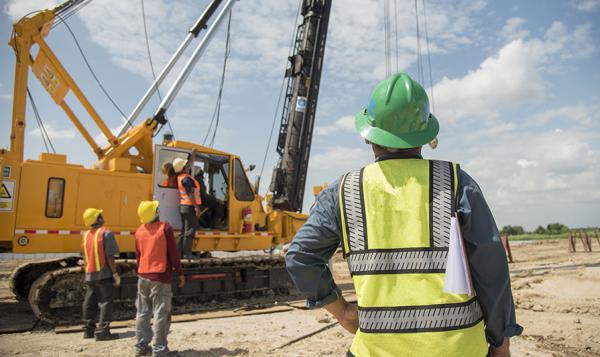 Preventing construction site accidents
A majority of the heavy construction machinery accidents can be prevented by taking a few simple precautions: 
Training is the key - Only properly trained and licensed operators should be allowed to operate heavy machinery and equipment. They should be well-versed with the safety features and safe-maneuvering of the machinery, as well as aware of the procedures and limitations of the equipment they are using. If an operator is observed operating the machinery in a manner other than its proposed purpose, an employer should plan for a refresher or retraining course for the worker. Never operate equipment if you have not had the proper training; you might be endangering others' lives along with your own. It is important to be honest with yourself and your team if you do not think you are equipped to handle certain equipment.
Use adequate machine guards and gear - Better safe than sorry! Machine guards and gear such as hard hats, gloves, goggles, high-visibility clothing protect workers from potential workplace safety hazards. Make sure that you wear these at all times when handling machinery.
Only use equipment for its specific purpose – If you use machinery in ways that weren't intended for that piece of equipment, you can no longer trust its safety features and may end up damaging it, or worse, causing injuries to workers using or surrounding it. It's important to ensure that:
While mounting the machinery, maintain three points of contact

While exiting the equipment, never jump off

You never enter or exit moving equipment as it can result in bad construction machine accidents

Always shut off equipment completely, engage parking brakes, release pressure from hydraulic controls and take out the keys to prevent any unauthorized use.
Timely maintenance of machinery - Poorly maintained heavy equipment is known to cause accidents, sometimes trapping workers in or under the machine. To avoid this, inspect and maintain heavy equipment on a regular basis before use.
Be alert and responsible - Practice defensive driving, parking and backing up. Remember to always wear a seatbelt and make sure operators and drivers can see you while working around the machinery or equipment. You should also block off the area where heavy equipment is being used whenever possible.
Follow OSHA guidelines - Stick to OSHA guidelines. Employers and employees who cut corners on the rules and procedures of OSHA are making the workplace more prone to construction equipment accidents. Report all OSHA regulation violations or incidents to make the workplace safer for everyone.
What are the OSHA guidelines for heavy machinery?
To help cut down on worksite disasters and fatalities, the Occupational Safety and Health Administration (OSHA) has guidelines that ensure safe and helpful working conditions for individuals. These directives set and enforce standards and educate workers and employers through training.
OSHA construction equipment guidelines aim to prevent accidents by:
Reinforcing mandatory accessories for all heavy equipment and vehicles

Ensuring operators' training before equipment use

Laying out timely maintenance schedules and checking of equipment

Mandating regulations to be followed for the quality of roadway/grade, preventing modifications to the capacity and safety features of equipment and vehicles and operation guidelines.

Providing apprenticeship programs or on the-job training to those with no previous experience as Heavy Equipment Operators
How modular construction helps prevent construction site accidents
In modular construction, 60-90 percent of construction is completed away from the job site in a controlled factory environment with strictly regulated safety measures. Prefabricated construction is also completed 30-50 percent faster than the site-construction traditional cutting the amount of time spent on-site work. As the workers spend significantly less time on the site, the chances of incidents are reduced drastically. During assembly on the job site, the significantly lower number of workers needed onsite further reduces the chances of incidents due to heavy equipment. According to a Safety Management in the Construction Industry SmartMarket Report, 73 percent of modular construction users have a fully inclusive safety program in place, compared to their non-modularized counterparts where only 48 percent have their safety covered.
Mobile Modular is the leading provider of modular buildings and offers highly customizable prefabricated buildings for rent and sale. To have in-stock standard plan buildings delivered in one business day at the most competitive pricing, contact us or request a quote.