Prefabricated Construction
Benefits and advantages that add up to big savings and a safer work environment
Increasing in popularity, prefabricated construction offers a wealth of important benefits over traditional, site-built construction. Because structure components are manufactured offsite, the most obvious benefits are the substantial savings on time and money.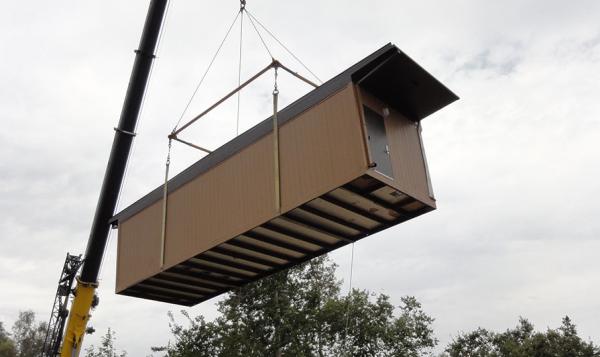 Top Six Benefits of Prefabricated Construction
1. SAFETY: According to the Occupational Safety and Health Administration (OSHA), "falls from great heights" are one of the top causes of construction fatalities. Because prefabricated construction happens offsite, components are constructed safely from an assembly line, so workers avoid heights and other hazards, such as:
Weather-related hazards

Unsafe ground conditions

Traffic congestion from construction and other vehicles
2. SPEED: Because the prefabricated construction process takes place indoors, the process is not subject to delays or disruptions caused by inclement weather conditions. A major win for labor productivity. This elimination of lost time helps lower the chance of human error and injury.
Prefabricated construction also further reduces construction time, because offsite component manufacture can be performed simultaneous to any onsite foundation work or development. For business owners this means faster ROI.
3. ENVIRONMENTAL IMPACT: Prefabricated construction offers a far more sustainable option than traditional construction. The faster production and construction time mean that less energy is required. And recycling is more common in offsite facilities than at traditional construction sites, so extra materials are diverted from landfill, reducing waste.
Offsite manufacture also allows for increased quality management, so the final structure is more accurate, with tighter joints and better air filtration, increasing energy efficiency.
4. FLEXIBILITY: Due to the very nature of their construction, prefabricated assemblies are easily relocatable. They can be quickly disassembled and moved to other sites, eliminating the need for additional or new construction materials. Prefab buildings can be used in different spaces and attached to different structures, allowing for more versatility.
5. COST-EFFECTIVENESS: Prefabricated construction projects can be completed in up to half the amount of time of traditional site-built construction, significantly reducing time and labor costs.
6. QUALITY ASSURANCE: Offsite construction allows for greater ability to maintain quality control, ensuring that the final product more precise and efficient than with traditional construction.
Mobile Modular: Leading the Way Since 1979
Mobile Modular has been a leader in the modular building space since 1979. With our more than 40 years of exceptional services and expertise, we are committed to matching the right product with each customer.
Mobile Modular provides custom prefab buildings for commercial and education solutions, such as mobile offices, portable classrooms, restrooms, and more. We also provide blast resistant modules for rent, lease, or sale.
Learn more about the industries we serve, the products we carry, and how we can help your organization meet its modular building goals. You can also sign up for our newsletter to stay up-to-date on important industry news.