Proposition 51 has been approved by voters and is set to have an enormous impact on California's School System.
It will pave the way for both new construction and the modernization of California's schools while bringing them up to speed with the latest health and safety standards that all educational institutions must meet. We cover the impact of the measure in greater detail later in this post, but let's take a step back and understand what exactly Proposition 51 is.
What is Proposition 51? Proposition 51, formally known as the California Public School Facility Bonds Initiative, is a state school bond to address the multi-million-dollar backlog of school construction projects.[1]
Proposition 51 authorizes $9 billion in general obligation bonds for new construction and modernization of K–12 public school facilities (charter schools, vocational education facilities) and California Community Colleges facilities.
Of the $9 billion in general obligation bonds;
-$3 billion would be allocated for new construction,
-$3 billion will be provided for modernization projects at K-12 schools,
-$1 billion would go to charter schools, and
-$2 billion to community colleges.[2]
Consequently, it would cost the state a total of $17.6 billion to pay off both the principal ($9 billion) and interest ($8.6 billion) on the bonds. Estimated annual payments of $500 million would be made over 35 years to cover the cost.[3] According to an article appearing in the San Francisco Chronicle, taxpayers in the state could expect to pay about $8.6 billion in interest before the $9 billion bond is paid off in 35 years. But it's all for a good cause as the schools in California are in desperate need for funds. It's been over a decade since California voters saw a statewide school construction bond on their ballots on Election Day.
Prop 51 – Impact on Schools
It is one of the vital roles of the state to ensure that students should learn in a safe and high quality environment. Hence, the state has been partnering with the local school districts for more than 20 years to oversee the construction of safe, secure, and modern school environments.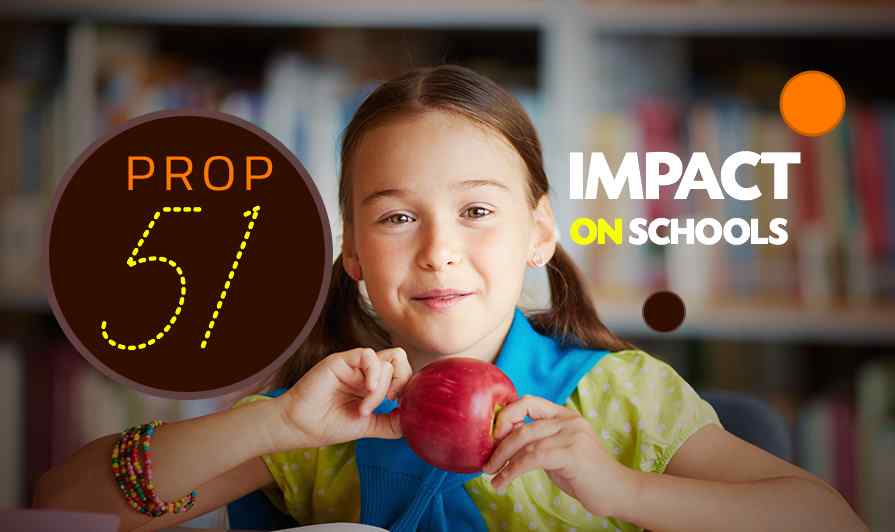 Here are three ways Proposition 51 can impact California schools:
Modernization: Proposition 51 will pave the way for the upgrading of classroom technology, science and computer labs, and libraries in schools across the state. Students deserve to learn in highly modernized facilities to be able to compete in a global economy. It is not about meeting basic academic needs, but surpassing them to give the students a high-quality education experience.
Health & Safety: Many schools in districts across California are in need of immediate upgrades. What kind of education experience is being provided when facilities struggle to meet basic health and safety requirements? Proposition 51 will roll out the process of putting in place measures such as retrofitting schools for earthquake safety, update fire safety systems, alarms, smoke detectors, handicapped accessibility, and other facilities that are desperately needed. It will also ensure that harmful substances like asbestos and lead paint are removed from school facilities.
Growing enrollment: The state of California has 8.3 million students enrolled in public K-14 education. The public school system (K-12) currently has about 6.2 million students, while the California Community Colleges currently have 2.1 million students.[4] As enrollments continue to grow, the problem of overcrowded classrooms is an apparent issue that needs to be resolved.
Proposition 51 will lead to the new construction of more classrooms, which means our students will have more space to share and receive a beneficial education comfortably. At the same time, enhanced community college and vocational facilities will attract more students who are interested in training for a variety of careers that ultimately, contribute to California's economy.
About Mobile Modular
As one of the nation's leading providers of modular buildings to the education industry, Mobile Modular delivers modular buildings that are designed with the changing needs of educational institutions in mind.
We provide schools with quick, efficient, and cost-friendly solutions for their construction, expansion, and modernization projects. From portable classrooms to science and computer labs, from libraries to cafeterias, and from restrooms/lockers to weight rooms – we have a range of prefabricated modular school buildings. Whether as temporary infrastructure while main campuses are being built/renovated or as customizable buildings that can grow as enrollment does, Mobile Modular is here to help.
Customers can depend on us to deliver temporary school space solutions for students while school upgrade and expansion are underway. We believe Proposition 51 is a great opportunity for all of us to get involved in a statewide project together, to contribute to the modernization of California's school districts, and to invest in the future of our nation.
[1] http://yeson51.com/fast-facts/
[2] http://voterguide.sacbee.com/race-detail.do?id=15173396
[3] http://voterguide.sos.ca.gov/en/propositions/51/
[4] http://www.lao.ca.gov/BallotAnalysis/Proposition?number=51&year=2016