In the world of business, you can't escape one crucial fact: Time is money. When it comes to modular construction versus traditional construction, the time savings modular construction offers is significant. Let's examine the benefits of modular in terms of the clock.
According to information from Dodge Data and Analytics, in their Smart Market Report titled Prefabrication and Modular Construction 2020, the traditional construction industry is facing a "perfect storm" of events that is making modular buildings an increasingly viable alternative. This "perfect storm" includes a shortage of skilled construction laborers, high housing costs and low housing availability in urban areas, decreased productivity in traditional construction, and an increased need for shorter construction schedules.
Did you know that modular construction can speed up overall construction time by 30-50%? There are potentially 40 days of time savings when using offsite construction. This is in part because the modular building process avoids weather delays. Also, site preparation can occur at the same time a modular building is being manufactured in the factory. And, installation of a modular building is quicker than traditional construction. Getting your building in place quickly means a quicker return on investment.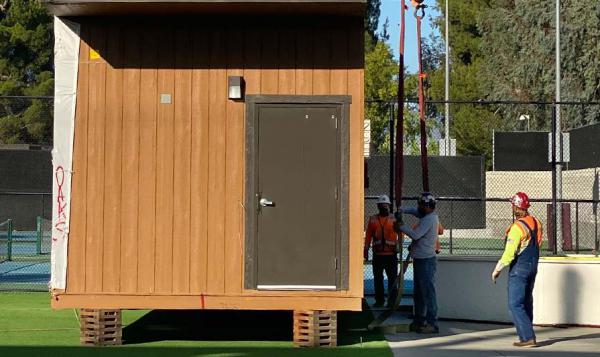 The Experts Agree: Modular Building Construction Will Soon Increase in Popularity
The report mentioned above indicates an impressive 88% of general contractors and construction management reported that modular construction results in a significant time advantage, with 60% citing better than 5% schedule gains during the three-year period preceding the 2020 report. And, 65% of design firms concur regarding schedule gains, with 20% reporting over 10% improvement. "Increased schedule certainty" is listed as one of the seven main advantages of modular, the others being improved productivity, improved quality, improved cost predictability, reduced waste generated by construction, increased client satisfaction, and improved safety performance.
The report goes on to state that the US—where modular construction currently accounts for only 4% of new builds—should see "significant shifts" towards modular and offsite construction during the next five years (following their 2020 report). This is in part because of the large number of skilled traditional construction labor force retiring. Plus, the report indicates that the construction industry "must evolve" into a more industrialized and automated process, citing that every other major industry has undergone this transformation. According to the report, "The companies that build modular now and build it into their strategic plans will be more successful sooner."
Among the benefits of modular construction, the advantage of speed to market clearly makes it a good choice for your next building.
Ready to explore what modular building solution is right for you? Get in touch with a Mobile Modular -    expert today. We'll answer your questions and help you find the right cost-effective solution for your budget and timeline.
Or build your own custom, modular building with our Mobile Modular 360 3D Visualizer tool.