Never underestimate the potential of modular classrooms. In fact, it's safe to say you can't overestimate them enough. Their popularity continues to evolve, with the Modular Building Institute citing 300,000 currently in use today.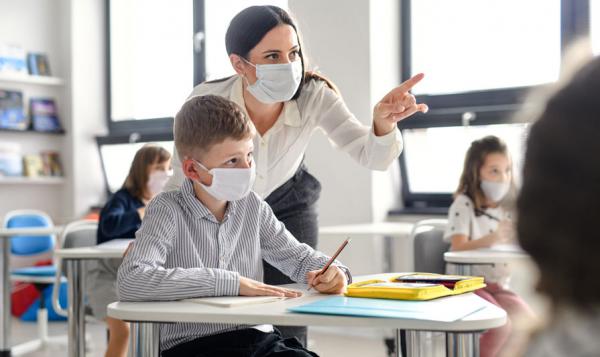 And for good reason. The benefits of modular classrooms are hard to argue with. They offer:
Rapid installation with minimal disruption to your campus

Immediate space solutions to accommodate growing student population

Customizable options

Flexible, easily relocatable to suit the needs of your campus

Turn-key classrooms built, furnished, and delivered ready to use
Depending on how much customization you choose, modular classrooms can be a significantly cheaper, more affordable solution than traditional site-built construction. Today's portable classrooms are built to last up to 30 years, so with proper maintenance you're bound to get your money's worth.
Going Back to School Safely
A recent article in the Stanford Medicine New Center says getting kids back in the classroom is critical, and modular classrooms can play a key strategic role.
In addition to mental health and the simple desire for kids to be among friends, pediatrician Jason Wang notes, "Prolonged school closures can exacerbate socioeconomic disparities, causing negative education and health outcomes."
According to the Stanford article, modular classrooms and buildings are included as part of the recommended guidelines to get kids back in classrooms safely. They provide the necessary space to maintain social distance of six feet for both teachers and students and are a fast, easy way to adopt nursing stations, testing areas, or quarantine spaces on campus.
Sustainable, Cost-Effective Classrooms
Right now, many schools are strapped by tight budgets and limited resources. Because today's modular buildings are far more energy efficient and the building process generates less waste than traditional construction, they're not only sustainable but also cost-effective.
Modular classrooms are built to state and local codes, making them a go-to for school districts nationwide. Energy-saving customizable options, such as solar, energy-efficient HVAC systems, and self-regulating temperature features, let schools redirect what they save in energy costs and put it right back into educational funds.
Start Your Modular Journey Today
Whatever your school's goals and needs, Mobile Modular is ready to help you every step of the way to help you find the right solutions and features to keep students and staff safe.
Mobile Modular offers a range of classroom sizes and floor plans:
24' x 40' portable classrooms

36' x 40' portable classrooms

48' x 40' portable classrooms
Ready to get started? Use our Mobile Modular 360 online building visualizer or contact us today to get your quote.