Modular buildings have recently become the focus of construction companies all over the United States. Everything from construction of schools to office buildings is slowly gravitating towards modular construction.
But What Is Modular Construction?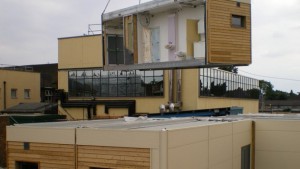 Modular Construction[/caption]
Modular construction is a method of construction wherein individual units (modules) are built in a controlled factory environment. Every unit (or module) is carefully built according to the design specifications and also in adherence to the required building codes. After they are ready, they are then transported as individual units to the construction site where they are assembled to complete the building.
While the modules are being built in factories, the construction site is being prepared for the installation of these modules. This includes preparing the foundation, which the modules are going to be placed to complete the building. It also includes making arrangements for utilities like plumbing, electrical wiring, etc. After the modules are assembled on site, the utilities are connected and the finishing touches are applied.
This system allows the two processes to take place simultaneously at two separate locations and thus modular construction can be completed a lot faster than traditional construction.
So simply put, modular construction is a method of construction that focuses on manufacturing individual modules first (hence the term "modular") and then assembling them at the construction site.
Modular buildings go by many different names like portable buildings, temporary buildings, prefabricated buildings, relocatable buildings, etc.  
Uses of Modular Buildings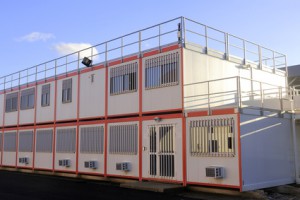 Modular Office Site[/caption]
Modular construction is used for building schools, offices, homes, hospitals, hotels, prisons, etc. Most of these buildings require almost identical rooms to be constructed and put together. This is where modular construction comes in.
Modular mobile constructions are a great way to meet temporary space requirements. Modular mobile constructions can meet your need for temporary buildings when a classroom or office building is under construction, an existing facility is under repair, or you're expanding a project, or your school has reached enrollment capacity. These temporary structures can be easily customized to meet your space needs.
In order to better understand why modular buildings are used, we must first understand exactly what it has to offer over traditional construction.  
Advantages of Modular Buildings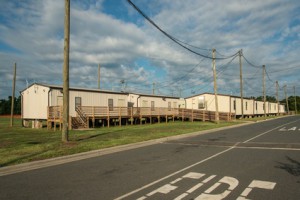 Mobile Classroom Trailer[/caption]
Faster Construction. Since modular buildings allow for two processes to happen simultaneously rather than sequentially, it saves a lot of time. Modular construction projects may reduce the overall construction schedule up to when compared to site-built construction projects.
Resource Efficiency and Minimum Wastage. Each module is pre-measured and constructed in a factory with close detail to exact specifications with respect to design as well as all current and applicable construction codes. There is very little room for wastage of materials and resources and thus modular construction proves a lot more resource efficient than traditional construction.
It doesn't just end at the construction phase. If ever a time comes when the building needs to be removed, demolition will result in the entire building being torn down into tiny pieces leaving no reusable parts and pretty much wasting all the building materials that were initially used.
When it comes time to "demolish" a modular building, it is as simple as disassembling the modules. And assembling them somewhere else! There will be almost no wastage since demolition and disassembling are two completely different concepts.
And if that wasn't enough, many companies use eco-friendly technology in HVAC to reduce energy consumption and to support sustainable living.
Reduced Weather Exposure. Since the individual modules are constructed indoors and in a completely controlled environment there is literally no exposure to weather conditions, which ensures that the modules are in perfect condition and do not incur damage caused by the weather even before construction. It also results in elimination of delays in construction due to inclement weather conditions at the project site.
Cost Effective. Since fewer materials are used and even less wastage is accounted for, modular construction proves to be extremely cost effective. Moreover, because of the considerably shorter amount of time taken to complete the construction, there is a decrease in an overall cost of labor for construction as well.
Better Safety. The actual construction of modules takes place in a factory in a controlled environment and typically in an assembly line. There is reduced risk of a safety hazard since everything is so meticulously controlled right down to the last detail.
Mobile Modular offers high quality space solutions by sourcing the best modular buildings from trusted manufacturers. Our in-house team then offers our clients ongoing maintenance and meets requests for customization. Through these services, we ensure our clients the best experience throughout their rental tenure.