Maybe your business is expanding so rapidly that you're coming up short on space. Or perhaps you need administrative space at a temporary job or construction site. Whatever your situation and goals, mobile office trailers are a fast, cost-effective, and easily transportable office-space solution that suits applications across a vast array of industries. They come in a variety of sizes and price points, so a number of critical factors come into play when making your decision.
Construction Trailer Sizes: Narrowing Down Your Choice
There are a few very obvious things to consider when deciding which size office trailer is right for you: number of staff and employees that will use the unit, site size and location, amenities needed, and of course, budget. Mobile office trailers are on average not more than 14 feet wide and 90 feet long, so layout and intended use are also critical.
The type of industry also informs size determinations. Within construction, mobile trailers are an easy solution for on-site administrative and planning offices, break rooms or storage of valuables and other materials commonly found on construction sites.
On a construction site, office trailer size will in large part depend on how much space you can allot at your site. Some good questions to address before you rent or buy your mobile office trailer include:
How many people will use the office trailer and will each person need an outlet?

Will ADA access be required?

How much common space will you need, as opposed to private offices?

Will you need desks or cubicles?

Is your site location remote or easily accessible?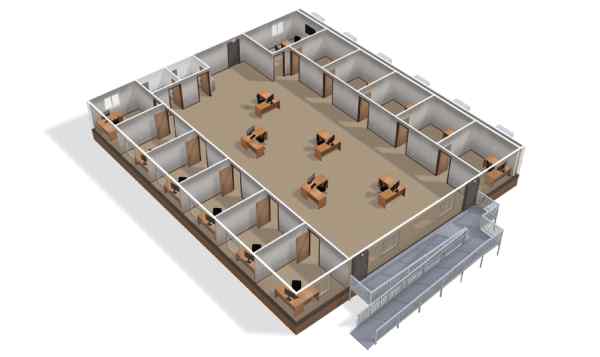 It's All in the Details: Getting Even More Specific
Beyond mere dimensions, which size mobile office trailer you choose entails examining more specifics, such as:
In general, plan to allow 100 to 150 square feet per person. As an example, a 12- by 60-foot mobile office trailer is around 720 square feel, therefore could comfortably accommodate five to six people.

Make sure the site location for your office trailer is carefully measured out. Discovering that your unit won't fit upon delivery will cost you time and money. Before you even order, make sure you fully understand how the vendor measures the unit. Do they include footage for towing hitches or any other external add-ons, such as stairs or ramps?

What the space will be used for also impacts which size you'll need. Will the trailer be used as office space and if so, will you need private office areas? Will the trailer function as a common area or break room? Will it house restroom facilities?
Common Mobile Office Sizes
Different sizes will necessarily have different layouts. Some common mobile office trailer sizes include:
8' x 20'

: Ideal size for one to two employees. The open-space layout accommodates a plan table and desk with drawers. Perfect for a smaller construction site.

10' x 40'

: Two-room layout works comfortably for two to four employees. Each room allows for its own desk and shelving and there is enough common space for a plan table.

12' x 56'

: This two-room layout has a common area large enough for a plan table plus a restroom and storage closet.

24' x 60'

: Great for fast-growing businesses in need of extra space or larger construction sites, this mobile office space works well for four to eight employees. Includes four private offices, a private conference room, an optional kitchenette, and a bathroom.
Price It Out
In addition to dimensions and portable classroom sizes, it's essential to consider the budget. Overall, mobile office trailers are a cost-effective option, and buying a used unit gives you even more savings. For short-term projects, renting a unit might be more cost-effective than purchasing in the long run.
Delivery, set-up, and removal costs: These costs are sometimes overlooked, so don't forget to factor them into your overall budget. Be sure to ask up, because some vendors do not even offer to deliver or set up. This potentially may be another expense you will need to cover. Many vendors do, however, deliver, set up, and remove as part of a bundled price.
Still have questions? Let us know! Give us a call to learn more about Mobile Modular mobile office trailers, which size is right for your project, and get a quote.