According to a market research report by MarketsandMarkets, Modular Construction market size is estimated to grow from $92.18 billion in 2018 to $129.67 billion in 2023, at a CAGR of 7.1%. No wonder with their easy installation, time-efficient construction, sustainable approach, and budget-friendly existing modular building solutions, they have become one of the best choices for numerous businesses and industries. Whether your construction needs are permanent or temporary, modular construction has got you covered.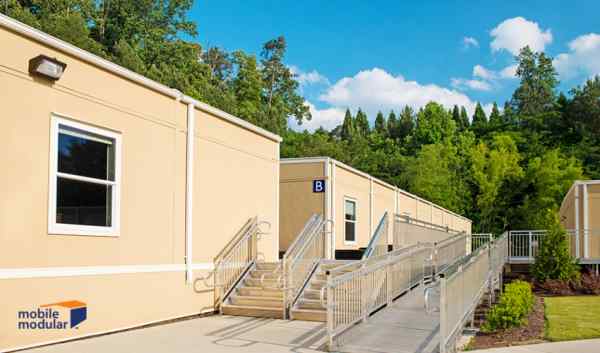 Let's Understand the Advantages of Prefabricated Construction
Saves Time Up To 50% -

Majority of the modular construction is built off-site and then, assembled on-site – unlike traditional buildings. The construction, manufacturing, and site preparation of a modular building commences at the same time – saving

considerable

building time.

Due to controlled factory-based construction, prefabricated construction is not affected by inclement weather – so, there's no delay even in that case.

Up-front and detailed planning saves overall building construction time.

Existing modular buildings are readily available and can fulfill the immediate need for affordable business spaces. For example, an existing mobile office trailer can be a quicker and cost-efficient alternative to building a new one.
Saves Cost Up To 20% -

Assembly line construction process helps streamline purchase and inventory of raw materials with high efficiency and

may

offset the continuously rising building material cost

s

.

Climate-controlled construction environment reduces material loss due to weather conditions.

Excess

construction material can be used in the next building project instead of disposing it off, as done in traditional construction.
To further save cost, you can opt for used modular buildings that offer the same quality and benefits as that of a new one – Ensure that you're purchasing it from the right seller to balance out the cost for additional customization.
Circumvents Labor Shortage –

Due to the centralized factory setting, modular construction can be carried out efficiently even with a small pool of labor.

The workers need not travel to and from the site – the same quality product and services can be provided to any client irrespective of the remoteness of the site location.
Offers Safer Construction –
The 'fatal four' – falls, electrocution, struck by objects, and caught in between are the major causes of accidents and deaths in the construction industry. With most of the modular construction process taking place in a factory environment, many unique safety initiatives and innovative techniques can be implemented, which otherwise are just impossible in a traditional setup.
Height Precautions – Modular construction uses permanent scaffolding while working with heights; unlike those used at traditional construction sites that require constant assembling and disassembling with a more probability for error and injury.

Construction activities – Prefabricated construction offers workers adequate space for performing their jobs – there's less exposure to large construction vehicles that move around in tight spaces, keeping the hazardous conditions at bay.

Weather elements – Indoor construction environment reduces the risk of slip and fall by preventing workers' exposure to slippery surfaces due to rain and snow. It also reduces the probability of electrocution by eliminating the risk of electrical lines being exposed to moisture.
Besides these impressive benefits at hand, certain trends further add to the popularity of modular building construction in various industries –
Due to the flexibility and rapid construction time with low cost, used modular buildings can be a preferred choice for small and temporary retail space, which is ideal for serving seasonal needs like Halloween stores or Christmas tree sales.
Increasing Demand for Permanent Modular
Besides a preferred short-term space provider, businesses have started realizing the growth potential of prefabricated construction and used modular buildings. A permanent modular building can be ready much faster, laid on a permanent concrete foundations and can easily replace traditional building structures. This allows less disruption to the business and the revenue stream. Moreover, a used modular building (with no modification required) can be available instantly with zero wait-time.
According to a report by MarketsandMarkets, permanent modular construction segment is estimated to grow at the highest CAGR in the global modular construction market from 2018 -2023.
Energy Efficient Construction
Today's sustainable modular construction provides buildings that are equipped with LED lighting, triple glazed windows, instant hot point water heaters, programmable thermostats, solar panels and use of geothermal systems, etc. that cut back on energy consumption -  making modular cost-effective even beyond the construction phase.
Modular construction comes to the rescue of the country's fast filling landfills by drastically reducing construction and demolition waste caused by traditional construction processes. Temporary modular buildings are designed to ease assembly and disassembly with minimal waste and almost eliminate demolition waste. Furthermore, used modular buildings can be a perfect example of sustainable development – A dash of personalization and a good source is all that your building needs.
Emerging Trend in Metropolitans
Emerging technologies make it possible to build a modular building as high as 30 stories. It has facilitated big cities and metros to prefer prefabricated buildings to save time and cost with reduced business interruption and community disturbance.
Looking at the impeccable advantages offered by prefabricated buildings, huge organizations like Google, McDonald's, Yale University, and NY Red Bulls have already opted for modular construction for their new projects. Existing modular buildings multiply the benefits offered by prefabricated construction by implementing the mantra of reuse, while its superior build quality offers the smooth and hassle-free function. With all this to its credit, prefabricated construction and existing mobile buildings seem to be the viable option for sustainable business growth.
Curious about how modular construction can help your business? Contact us today or request a quote.