Have you ever wondered what your modular office will look like before it is built? How will the furniture layout look in the office? Welcome to 3D-visualization software, a way to see what things will look like ahead of time to help you to efficiently design your space.
What Is 3D Visualization?
3D visualization tools create 3-dimensional building plans. This allows the user to see images of planned structures with more clarity and detail than traditional 2D images.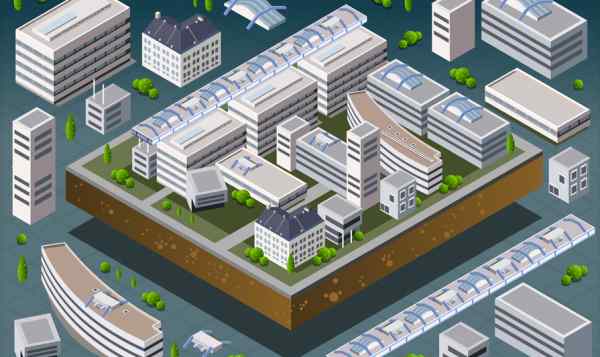 Benefits of 3D Visualization in Construction
When it comes to 3D visualization, you get more than just a picture or animation of what your office will look like. 3D visualization offers a range of advantages to your business that includes enhanced presentation, lower costs, time savings, ease of idea sharing, ready-made marketing materials, and more.
Better Understanding of Final Product: 3D building visualization provides insight into what your design will look like before actual construction. Whether it's the building structure and layout, interior aspects such as color and texture, or exteriors like elevations and landscape, you can make real choices during the design phase. 3-dimensional visualization enables easy understanding and decision-making to avoid unnecessary design rework.
Enhanced Visual Communication: You can eliminate the need to understand architectural drawings with a 3D visualizer. Construction details and features can be easily exhibited with realistic graphics and animations.
Cost-effective: A 3D visualizer lets you quickly modify your building layout with a few clicks— rather than making time-consuming changes in the building plan. In traditional construction projects, design issues emerge during or after construction when it's too late to offer acceptable solutions. A 3D visualizer helps you identify the loopholes – knowing the issues in time lets you work on them efficiently by changing the design or offering an effective solution without wasting additional resources and cost.
Ease to Share and Market: What else can be more effective than your 3D building animation that gives the look and feel of the actual proposed structure! The animation created by a 3D visualizer can be a powerful and cost-effective marketing tool.
3D visualization can be equally beneficial when it comes to modular buildings. Mobile Modular's 360 3D visualizer lets you customize your building with an assortment of exterior wall colors, flooring options, furniture and more. It adds to the significant time savings already offered by prefabricated construction.
If you are interested in potential of 3D visualization in modular construction as a solution to your needs, contact us or request a quote today!