The United States is witnessing a change in education as it's faced with some very real challenges, such as overcrowded classrooms. A study by the National Center for Education Statistics found that 14 percent of U.S. schools exceed design capacity. As school administrators struggle to find funds to address growing enrollments, finding affordable classrooms options is a top priority for school administrators.
When the Museum School of Avondale Estates in Atlanta, GA faced a similar challenge, they sought out Mobile Modular's Campus Maker ModPod. This energy efficient classroom was a flexible, eco-friendly, and quick modular solution.
What is the Campus Maker ModPod?
The Campus Maker ModPod is a classroom module solution composed of two modular classrooms with an egress corridor with an emphasis on energy efficiency. Each classroom is 790 sq.ft. and can comfortably accommodate up to 35 students. The interior corridor is eight feet wide.
How can the Campus Maker ModPod Benefit Your School?
When it's time to expand or update a school campus, all additions should incorporate new technology and cost-efficient features for the current needs and future changes.
1. Use the ModPod to create a modular classroom that suits your needs. Adding and removing classroom modules is a hassle-free affair thanks to the wall design of the Campus Maker ModPod. Classroom modules are built to easily detach and relocate to another location like a different branch of your school or another section of campus with minimal disturbance. This gives you optimum flexibility allowing you to expand and retract according to enrollment numbers and space needs. Configurations can be chosen based on your need, whether it is a classroom, library, laboratories, restrooms, administrative office, music classroom, and much more.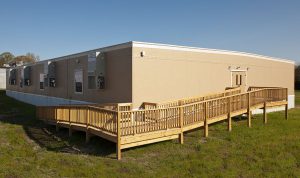 If you detach a module, you don't even need to construct a new wall on the exterior because wall finishes are already present. All of this can be done in a few days.
2. Enjoy enhanced safety. An interior corridor with steel clad exterior doors, door self-closers, and panic hardware are some of the great security features of the Campus Maker ModPod. Classrooms are accessed through a solid core fire-rated door with a large view block and locking system. The modules are also compatible to fit optional alarms and electronic entry control for enhanced security.
3. Benefit from Energy Efficient Classrooms. An eco-friendly and energy-efficient design was one of the goals we set out to achieve when we designed the ModPod. It's really a great example of energy efficiency with the following energy-saving features:
Energy-efficient T8 lighting and customized lighting control
High-efficiency HVAC and an intelligent energy management system
White EPDM cool roof with batt-insulation
Glueless carpet tiles
Dual pane windows with E-glass
Commercial grade, heavy duty vapor barrier
In addition to these standard features, we can also customize ModPods with other sustainable options like LED fixtures, automated soap and towel dispensers, passive shading devices, tankless hot water heaters, and more!
When the Museum School of Avondale Estates saw the finished product, they were delighted with what the Campus Maker ModPod accomplished. Their ModPod design had a flexible floor plan system, energy efficient classrooms, and better natural light with the look of a permanent exterior.
Mobile Modular has been designing and making modular classrooms for more than three decades. We have experienced staff to help you out at every stage of the project. Our deliveries are hassle free too!
If you would like Mobile Modular to help you embark on your modular classrooms project, request a quote today.