If time is money anywhere, it sure is in the world of manufacturing.
Manufacturing facilities are bustling places. Additional space may be required at short notice for a variety of reasons. An extra classroom to accommodate more trainees, more factory office space or breakrooms may be needed as your facility grows. Constructing new facilities onsite in such cases might not always be the optimal solution as even minor construction activities could slow down operations in a manufacturing plant.
Prefabricated buildings provide quick space solutions, and they do so with minimum disruption to existing facilities. They also allow for space used at a manufacturing plant in versatile ways as these buildings can be relocated whenever needed.
Modular construction is a process that assembles pre-engineered building units or modules at the site to construct buildings. These "modules" are produced off-site at factories and are designed to meet the same codes and standards as traditionally constructed buildings.
Various Uses of Modular Buildings at Manufacturing Sites Modular buildings can be used to fulfill a number of different requirements at your industrial facility like:
-Administrative Offices
-Guardrooms
-Healthcare Facilities
-Break and Recreational Rooms
-Restrooms and Showers
-Training Rooms
-Laboratories
-Temporary Storage and Packing Solutions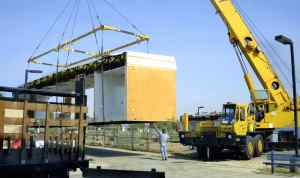 Why Use Modular Buildings in Manufacturing Industry?
Here are five major reasons why you should choose modular construction in your manufacturing facility:
1. Less Time for Construction: If you are in the business of production, time is money. The longer the productivity of your facility is hampered due to the lack of space or construction activity onsite, the harder your profits get hit. Conventional construction projects are susceptible to cost and time overruns – something you just cannot afford when you are already facing downtime on a project. Modular buildings, on the other hand, can be completed in nearly half the time taken to finish a traditionally constructed facility. This makes modular complexes one of the best options when you need to speed up construction of manufacturing facilities at remote locations.
Since 60-90 percent of the construction takes place off-site, the risk of delays due to inclement weather is much lower. The sooner your factory office space, guardrooms or training rooms are ready to be occupied, the sooner you can put all your resources to work, bring construction activity to a close, and gain complete functionality.
2. Longevity: Industrial sites require robust structures that normally consume a lot of time in onsite construction. We require significantly high standards for the construction of our equipment. This means providing a modular building is maintained in an appropriate manner, its lifespan should be consistent with that of conventional structures. You'll get a building that lasts as long while taking significantly less time to construct.
3. Flexibility: Modular construction is an extremely flexible alternative to conventional construction. Modular buildings can be relocated and reconfigured to accommodate your changing work volumes. These facilities, especially temporary buildings, can be built and delivered quickly to allow you to operate smoothly during peak periods of use and remove the buildings when they are no longer needed. Temporary modular structures can be rented to meet any sudden demands for space at your facility.
4. Customization: Whether you need temporary factory office space, breakrooms, or even additional locker rooms and training facilities – mobile construction offers customizable solutions that include adaptable floor plans to meet your unique needs.
5. Cost-effectiveness: Reduced labor and material costs, less wastage, lower risk of delays, bulk purchasing, and efficiency in production are some of the reasons that make modular buildings a whole lot more cost-effective than conventional buildings. Looking to build additional breakrooms or offices at your manufacturing site to accommodate growing business? Look no further and get in touch with Mobile Modular.
We use our own trusted fleet of vehicles to deliver our modular buildings so you can be assured of deliveries according to your schedule. We also have a 30-day rental cycle, unlike the usual 28-day billing cycle. That gives you two extra days at no extra cost! Request a quote today.