Ever since our journey began in 1979, Mobile Modular has strived to provide best-in-class modular education building systems.
Several schools across the country have partnered with Mobile Modular to meet unique short-term and long-term storage needs. For example, Eastern High School in Washington, D.C. needed a whole new modular campus complete with classrooms, restrooms, and administrative buildings in just seven weeks. We delivered a unique campus design with our green modular classrooms called CampusMaker ModPods. Check out other success stories in which our customers successfully used modular school buildings for their projects.
What types of modular education buildings are available at Mobile Modular?
1. Portable Classrooms. 
Our extensive stock of prefabricated classroom buildings come in a variety of customizable shapes and configurations. We can even design matching or complementary prefabricated classrooms with aesthetics of surrounding buildings already present on site. You can purchase or rent our portable classrooms depending on your budget and student enrollment needs. If you're on a tight budget and looking to save on costs, choose from our quality pre-owned portable classrooms for sale.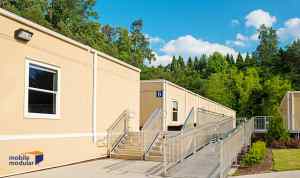 2. Modular Complexes. 
Our modular education complexes can include anything a school needs: administration buildings, restrooms, office space, library space, nurse's offices and more. A single complex can accommodate up to 500 people. Just like our modular classrooms, these complexes can be customized to meet your needs. If you're working on a tight deadline or budget to meet multiple educational requirements, these complexes are your ideal solution.
3. Portable Restrooms. 
Expanding schools need additional restrooms, and quickly. Mobile Modular offers modular restrooms and entire prefabricated restroom buildings. Showers and locker facilities are available in our portable restrooms for up to 300 people. All our portable restrooms meet standard school building regulations and codes as well as state and federal safety codes.
How to get a quote to buy or rent modular educational buildings online?
1. Our portable classrooms and offices are available for immediate lease and purchase. If you'd like to rent, lease or purchase modular classrooms, complexes, or school offices near you, visit our Mobile Modular's website and go to Find a Location in the top navigation bar and select a state.
Select models you are interested in under the Products Offered in "State." For example, you could choose Classrooms, Education Restrooms, or Educational Complexes. Once you've selected an option, a list of modular buildings available for this category will appear.
2. To view details of the modular building you're interested in, click View More Info. You can view the modular classroom design in detail: modular building dimensions, configurations, floor plans, availability of restrooms, and model numbers.
3. Directly add the product you want to the Quote Cart by clicking on the Add to Quote button.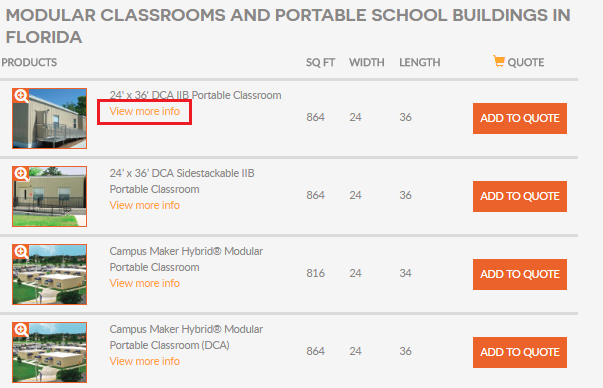 4. Click My Quote in the header to view all the buildings you have selected.

5. On this page, you can change the quantity of buildings by entering the number of buildings in the quantity (QTY) You can also opt for recommended accessories by checking the boxes next to the accessory. For example, check Stairs, Ramp, and Skirting if you'd like these for a particular school building. We also offer modular building furniture and other accessories for rent.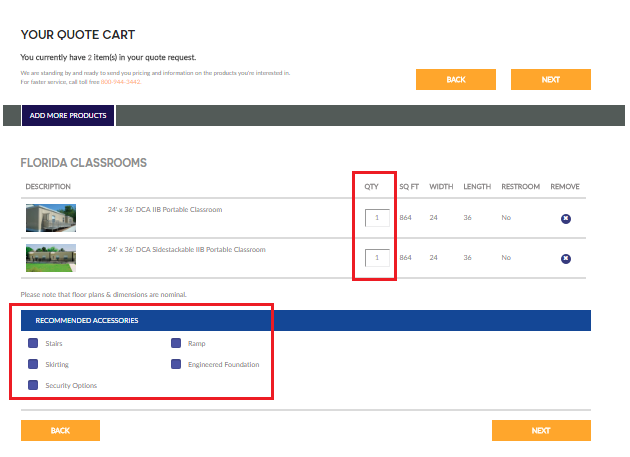 6. Click Next on the My Quote page once you've decided on all the buildings. Fill in basic information about yourself and your project.
7. Click Submit once you've filled in the information and we'll get back to you soon with your modular school building quote.
Our high-performance modular education buildings are backed by a team of experts available to answer your questions and suggest the best solutions for your problems. With Mobile Modular, you'll find a modular solution that's the best fit for your project needs.