The oil and gas industry witnessed a shocking drop in oil prices at the end of 2015 due to an ample supply and weak demand for oil. Oil prices were down more than 60 percent from their high in the summer of 2014. 2017 promises a sluggish recovery, and so the idea of finding cost reduction savings elsewhere for those in the industry is important to fight the slow return in price per barrel. To maintain profitability, and match the customize office needs of operators in the O&G industry, many have turned to modular buildings for their many advantages.
Petrochemical and oil and gas companies have reduced spending in many areas from supply chains to optimize business processes. Modular construction can help reduce project costs and save crucial time on upcoming projects.
Here are the four benefits modular construction offers for the petrochemical and oil and gas industry, all of which help reduce your long-term spending.
1. Reduced Project Time. While traditional construction is known for project delays, modular construction is recognized for its short development schedules. In modular construction, building components are constructed at an offsite factory.
Such offsite parallel construction is a time saver as it lets operators work on several parts of a facility simultaneously. This is an advantage over traditional construction at offshore facilities, where onsite space is often restricted and limited and takes more time.
2. Better Quality and Standardization. Since modular buildings are constructed in a controlled factory setting, your unit has already undergone stringent quality checks. All modules must conform to strict codes for buildings and are tested before being delivered and installed onsite. In addition to this, the building components are not subjected to the vagaries of weather during development or due to project delays.
Standardization is integral to the modular construction process; it improves quality and most importantly, saves time. A McKinsey report estimates that it is possible to standardize at least one-third of all modules or sub-modules for even the most complex of equipment. For projects with minimal variations, it's possible to standardize even up to two-thirds of the process. Modular buildings exemplify standardization in construction.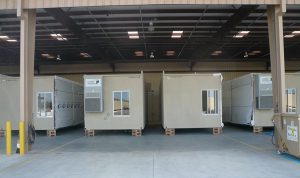 3. Worker Safety. At Mobile Modular our skilled workers are safety certified and receive site-specific certification. Before starting any job, our safety coordinator meets contractors to understand the site and to review the work plan. Installing modular building solutions needs fewer crew members on the site. Our modular construction projects are safer and simpler, and will not be another worry piled upon your crew.
4. Flexibility. Modular buildings are extremely flexible. They can be modified to meet your needs, and can; therefore, save costs, especially on expansion projects. Consequently, modular buildings also come in a variety of finishes, sizes, and configurations, so your enterprise can choose from existing models that match your specifications, or you can convey your special requirements to us.
With shifting forecasts in the industry, oil and gas companies need well-planned cost optimization for their construction projects. At Mobile Modular, we understand the need for high-quality modular buildings. Contact us to buy or rent modular petrochemical office buildings and other modular solutions for your petrochemical oil and gas industry. Request a quote today.