Looking for the right floor plan for your office expansion? Whether you're looking for a private or shared office floor layout, it's important to weigh the pros and cons of each design before finalizing one. Choosing the right layout for your office, not only impacts productivity, but it also allows businesses and organizations to create an environment that encourages performance.
Do Open Office Layouts Always Work?
The open office floor plan which has spread from tech startups to media and advertising agencies was proposed by modernist architects like Frank Lloyd Wright who believed that walls and rooms created barriers between people.
While open office floor plans are considered an ideal layout for industries that require creativity, collaboration, and team work, some may believe that open floor plans prevent productivity. Designers like Robert Propst, whose Action Office system was selectively used to create cubicle offices in the late 60s, opposed that trend when it lacked thoughtful application. Office floor layouts, however, should not just save space, but it should also give your office a unique atmosphere that enhances employee efficiency.
Let's take a look at four common floor plans and see how they can be used!
1. Private Offices. Privacy is a major advantage when you choose private offices. Employees can have meetings and calls with clients without disturbances or interruptions. Creating a private office, however, this may become costly and labor intensive. To overcome budget constraints, private offices are a good option for those who need a separate and exclusive area.
2. Open Offices. Open office floor plans seem to be one of the most popular types of offices in the US with about 70% of US offices using this layout. Companies in Silicon Valley, for example, pioneered this trend by designing offices that allowed free flowing interaction between employees. This type of floor plan not only allows employees to work together on projects, but it also allows space for more employees in smaller workspaces.
3. Cubicles. Originally designed with the idea of striking a balance between open and private offices, cubicles are a popular layout which, like open offices, may get noisy at times if you are working in a smaller work environment. Cubicles, however, offer cost benefits for companies as well as providing a way for employees to communicate spontaneously with co-workers.
4. Coworking Spaces. Coworking spaces are offices where people from different professions come together to work in one setting. These offices are membership-based spaces which are used by freelancers, remote workers, and professionals who see themselves as a community.
Workspaces of the Future
While each of these office layouts has its pros and cons, a new kind of office layout seems to be gaining popularity. The hybrid office plan is a combination of private offices, sound proof rooms, cubicles, and open floor plans that facilitate employees diverse work tactics. Employees can use closed cabins while completing assignments and open spaces for team activities and tasks.
Although it is not easy to say what office spaces of the future might look like, workspaces will evolve to cater to organizations and businesses wants and needs that will ultimately, serve their employees and clients.
What we do know is that changing office floor plans often to match the latest trends is practically impossible with just traditional construction. When workspace layout changes become unavoidable, renovations and remodeling or re-purposing the space could turn out to be expensive, disruptive, and time-consuming, if you rely solely on traditional construction techniques.
This is where modular construction comes in! If you are starting a company at a new location, choosing modular buildings can proactively save time and can produce less landfill debris on the site than traditionally constructed buildings.
Modular Construction Offers Flexible Office Layouts
Modular construction offers solutions that are customizable and can be easily adaptable. Mobile Modular offers a variety of floor plans to choose from. You can modify and change modular complex floor plans in ways that suit all your needs. As your organization grows, you can add more space in ways that serve your business best.
Faster Office Setup
Modular buildings and mobile office solutions have an inherent advantage of being faster; they can be set up 30-50 percent quicker than traditional construction. This way you can get operations started sooner and get a quicker return on investment.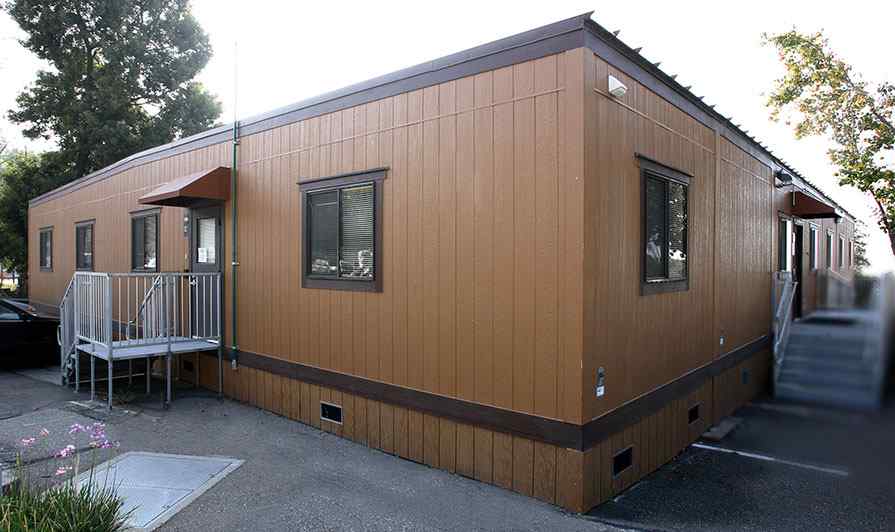 Buy and Rent Options Mobile Modular offers customizable floor plans at reasonable rates. There are a variety of finishes, styles, and floor plans for you to choose from. Moreover, if you are a startup and are working on a small budget, you can rent mobile offices that can be installed where you need them and modified as your company grows.
Office space needs will change with the growth of your business. If you'd like to know which modular solution can meet your requirements and future-proof your office floor plans, request a quote today.