Modular construction is a surprisingly adaptable and time efficient process. The U.S. Army recently experienced these advantages at the Eisenhower Army Medical Center at Fort Gordon in Augusta, Georgia. Renovation was planned for part of the medical center that treated soldiers with injuries from service overseas. The construction firm in charge of the renovations turned to Mobile Modular to temporarily house doctors, therapists, nurses, and administration personnel while construction was being completed. The medical center needed a fully functional temporary medical facility along with a fully equipped gym, all on a timely schedule.
Mobile Modular delivered a 9,000 square foot modular building - in less than one month. The facility had a fully functional medical space and provided ample office space for 50 doctors, therapist, nurses, and administrative staff. Early incorporation of this flexible design helped save substantial resources for the U.S. Army and exceeded their expectations under the demanding renovation project. Mobile Modular was able to deliver a top notch product for the men and woman who serve their country, and was able to do it on time and under budget with an end result that is energy efficient.
This is just one example of the many positive projects that indicate the growing market for modular construction in the government sector. Apart from military establishments, many local, state, and federal agencies are realizing the immense benefits of modular buildings. Let's take a closer look at additional modular advantages.
Going Green
Every year, government agencies invest millions of dollars on buildings and infrastructure in order to conduct their operations. In fact, President Barack Obama proposed a significant investment in America's public buildings in his 2016 budget with an emphasis on constructing buildings that were both energy and cost-efficient. [1]
Energy efficiency is one of the most prevalent construction trends. And modular construction solutions continue to lead the way minimizing waste and working towards energy efficient buildings.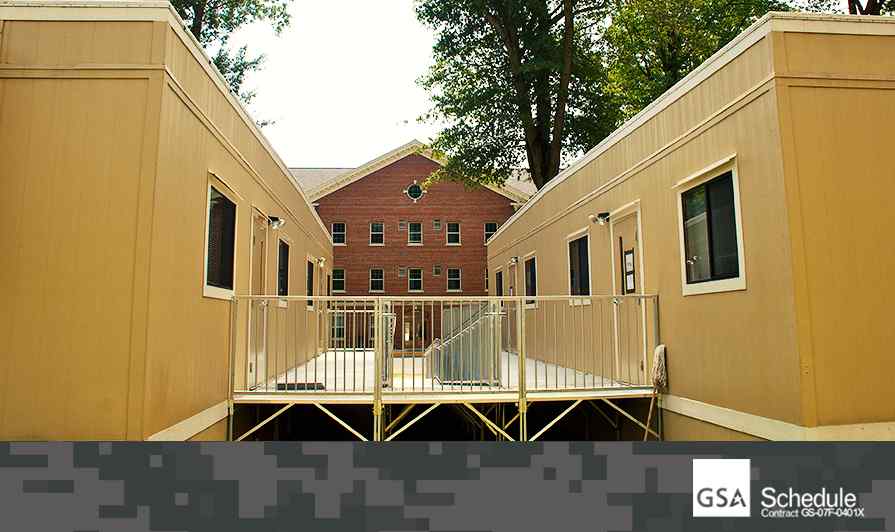 Building More with Less
But reducing the environmental impact isn't the only reason for government agencies to choose prefabricated buildings. There has been a decrease in the number of construction workers across the country, which hampers traditional construction. Reuters cites nearly 200,000 vacant construction jobs in the US, and  some government buildings, especially those linked to the military, are constructed in places where the skilled labor force required is not easily available.
Modular buildings are constructed offsite in facilities with local employees. This method of construction combines technical innovation with proven automation processes resulting in less reliance on the fluctuation of construction workers available.
Quick Timeline
Most government construction projects are extremely time sensitive, especially when it comes to military facilities. Modular construction accelerates the timeframe for completing construction through multitasking. For new construction, expansion, and remodeling projects, while the foundation is being installed or during the demolition phase, facility workers are building the separate components to deliver to the project site (concurrent construction). According to Modular Building Institute, construction methods using modular components may reduce design and construction timelines by up to 30-50 percent.[3]
Cost Efficient
As if that wasn't benefit enough, the proven cost-effectiveness of modular construction makes it a natural choice for government agencies. Concurrent construction, reduced material waste, and energy consumption, lowered operating costs, produced faster completion, and subsequent early occupation are some of the factors that make modular construction highly cost-effective.
The days when modular buildings looked like assembly line productions bereft of any originality or style are long gone. Modern-day modular buildings are a mix of high functionality and impressive design that reflect the stature of the hallowed government offices that they house. If you are looking to make some additions to an existing facility or construct a new one, we have the some of the best modular solutions in the market for you. Work with our team of experts to find exactly what you need. Request a quote now!