When it comes to office space, each industry has its own specifications and demands. Certain industrial applications like oil refineries and chemical plants are highly vulnerable to fire and explosions. The primary aim of Blast Resistant Modules is to help shield the workforce deployed in explosively hazardous areas.
What are blast resistant modular buildings?
Blast Resistant Modules (BRMs) are also referred to as blast resistant units or blast resistant buildings. They are specifically designed to help safeguard the equipment and personnel in hazardous environments like chemical processing plants and petrochemical refineries.
The significance

of blast resistant structures in industries
Blast resistant buildings were introduced after an unfortunate accident occurred in BP's Texas City Refinery in 2005. Aside from resulting in a severely damaged refinery, the accident claimed the lives of 15 workers and injured 180 other workers. BRMs offered an efficient solution to keep the plant functional when the buildings were shifted outside the blast radius. Since then, BRMs have come a long way and blast resistant construction offers a range of benefits such as:
Safety – These buildings are made of thick steel walls to help protect you.
Save Space – Since they are modular structures, they can be combined to create larger spaces; they can also be arranged side-by-side or stacked on top of each other to provide a multilevel structure based on your space availability.
Quick Availability – They are far more readily available compared to conventional buildings, while also significantly saving you on building time.
Highly Customizable – You can customize them based on your requirement - BRMs can be used as an office, tool crib, training room, cafeteria, conference room and for many other purposes.
Portable – They are portable and also reusable, unlike their conventional counterparts. With proper installation, you can re-use them for different purposes and shift them around different sites and locations based on your business plan and requirement.
Cost Effective – They are significantly cheaper compared to the traditional buildings made of cinder and concrete block structures.
Common features and applications of blast resistant modular buildings
Common features include high-performance material choices such as impact-resistant fiberglass and bulletproof steel, high-gauge wall studs, blast-rated doors, specialized window designs, high-performance fixtures and cabinetry, customizable interiors, and self-contained sewage and plumbing systems. Though specially designed for hazardous environments, these constructions can be adapted to many industries or applications such as:
Petrochemical operations

Oil drilling sites

Laboratory environments

Steel mills

Remote instrument and battery charging enclosures

Large-scale manufacturing

Access control and checkpoint booths

Automotive shops

Government buildings and outdoor facilities

Office security
Blast resistant modules offered by Mobile Modular
Mobile Modular offers climate-controlled DropBox Blast Resistant Modules (BRMs) that:
Are PE certified 8 PSI Overpressure Rating

Has steel exteriors, is equipped with HVAC with dehumidification, and is completely insulated to provide multi-functional space with climate control.

Contains features like rolled rubber flooring, 10 KW heat strip and 200-millisecond duration

Has custom floor plans like tool cribs, multiplex units and restrooms

Are delivered to your refinery, plant or project site

Are available for rent, lease or purchase
Mobile Modular provides four DropBox BRMs –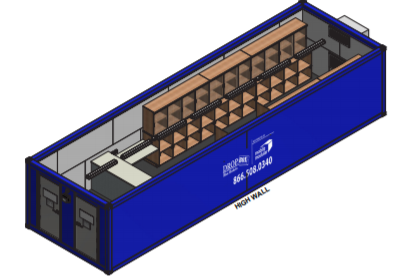 How to choose the right BRM
While choosing your BRM, you have to pay special attention to the combination of blast pressure, duration and response level.
Response level is a crucial factor while deciding the right BRM. According to the American Society of Civil Engineers (ASCE), response level indicates the damage level due to an incidence:
Low Response – The building can be used, however, the integrity of the structural envelope needs to be restored, which will be a moderate cost.

Medium Response –The building cannot be used until it is repaired since there is widespread damage to the building (may require a significant cost).

High Response – Environmental conditions can cause the building to collapse and it may cost as much to repair as it would to replace.
It is always advisable to select the BRMs with low to medium response rating as they further help provide protection to your workforce and equipment. All our BRMs meet the criteria of Low to Medium Response Rating by ASCE and withstand 8 PSI pressure for 200 MSEC duration and 10 PSI pressure for 20 MSEC duration.
Fill out our Quote Request Form or contact one of our service representatives at 866-508-0340 to get a quote today regarding our inventory of DropBox BRMs.