The recovery process after any natural disaster takes immense coordination and having the right solutions available immediately can make a significant difference in the recovery process. While we can forecast the weather to a degree, Mother Nature can deliver punches we never saw coming, and gauging what will be needed in the aftermath can be overwhelming.
Whether in the wake of a hurricane, flood, wildfire, tornado, or earthquake, fast, easy solutions that address the immediate needs of businesses, schools, government entities, and entire communities are essential. Making modular buildings a part of your disaster relief preparedness plan today ensures a quicker recovery process tomorrow.
What to Consider Today
For recovery efforts to be effective, your preparedness plan should address issues that may not always be obvious. To help you anticipate the unexpected, below are some of the many often-overlooked benefits of modular buildings and their role in disaster relief:
STORAGE: The idea of storage as part of disaster relief may seem minor, but it can play an enormous role in keeping recovery efforts running smoothly. Relief workers are inundated with an onslaught of donated goods—sometimes more than they can keep up with. Having a designated, secure storage space prevents the build-up of donated items that can get in the way — literally — of workers and processes.
REST AREAS: For first responders, emergency workers, volunteers, and anyone else helping in the recovery effort, modular buildings offer a safe, clean environment to rest and recharge between shifts.
PLANNING/ADMINISTRATIVE HEADQUARTERS: The recovery process can involve many different entities — construction workers and engineers, medical teams, civic and community planners — all in need of a space in which to meet and coordinate relief plans. Modular buildings offer a temporary administrative office solution and can be fitted with all the features you'd find in any regular office space:
HVAC systems

Ramps

Lighting

High-security windows and lockable main doors

Office furniture

Shelving
HOUSING: The ability to bring temporary housing not only to those confined to hospitals or nursing homes but also to anyone whose home is negatively impacted by disaster is one of the biggest benefits of modular buildings. Modular buildings are quickly installed and give vulnerable disaster victims a comfortable shelter after evacuation or during the rebuilding and recovery phase.
MEDICAL NEEDS: After any disaster there is the potential for casualties, and access to rapidly delivered and installed units that can be used for medical purposes isn't an option, it's an imperative. Mobile units accommodate a wide range of functions to address sudden urgent medical needs when a hospital may not be able to:
Patient assessment or triage stations

Medical supply storage

Portable labs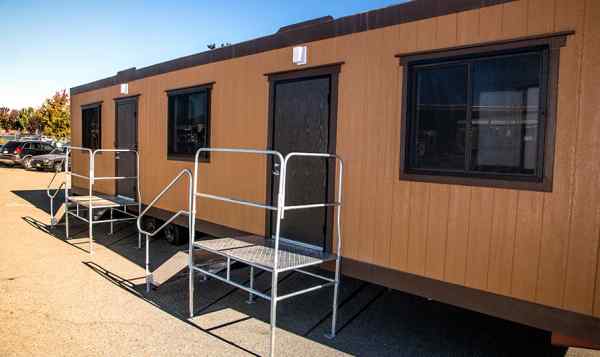 Mobile Modular: Ready at a Moment's Notice
One of the most significant benefits of modular buildings during disaster relief is speed. From delivery to installation, our units can be fully operational within a very short timeframe.
Our cost-effective solutions span a wide range of applications and put the safety of customers first. Be sure to build the following information into your disaster preparedness plan, so you can reach out to a Mobile Modular expert immediately to make your recovery process as smooth as possible.
Fast Facts:
Mobile Modular disaster relief assistance: 888.929.0385
More Resources:
https://iaqa.org/consumer-resources/storm-damage-resources/
https://www.redcross.org/about-us/our-work/disaster-relief/wildfire-relief.html