According to the National Center for Education Statistics, the average age of American public school buildings is around 44 years old. Although the number of public schools stand between 98,000 and 99,000, older and underutilized buildings are continually being retired or are undergoing modernization.
Whether you're faced with a modernization project on a budget or an urgent need for additional space, there are several reasons why your school should use modular school buildings. Portable classrooms and modular school buildings are being adopted by schools to overcome space requirements and limited budgets.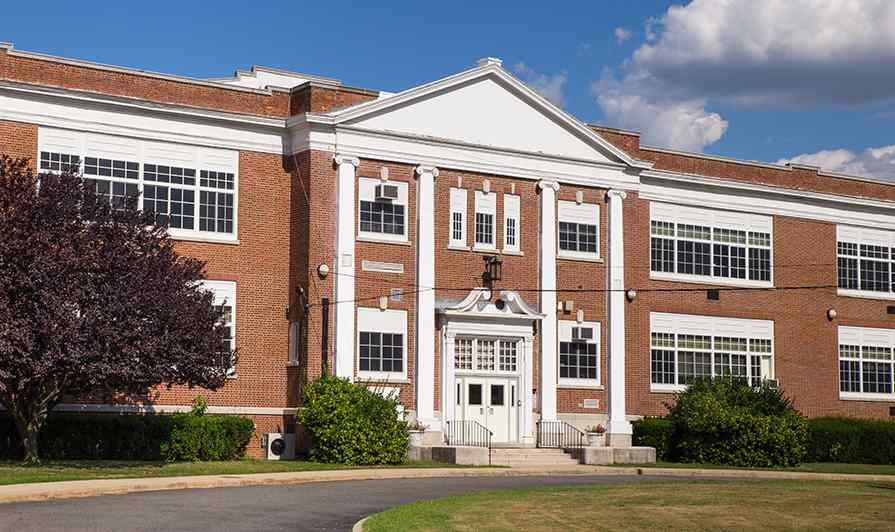 Here's a quick look at how Mobile Modular provided modern facilities and classrooms for three schools.
1. Eastern High School, Washington, D.C. Eastern High School, a classic 1930's building, was located just a few blocks away from the United States Capitol. When the Mayor of the city announced that they were going to modernize the city's schools, the Office of Public Education Facilities Modernization (OPEFM) approached Mobile Modular to create a temporary leased modular space solution.
The Challenges. The OPEFM cited several requirements that the modular solution had to meet. For example, the modular building had to accommodate teachers and students without breaking the single campus feel. Moreover, since the school was inside the city, there was limited land available, and Mobile Modular had to ensure the solution used every inch of space wisely.
Solution. With just 49 days to set up a modular campus complete with classrooms, restrooms, and administration buildings, Mobile Modular quickly collaborated with project architects and a contractor. Here is how Mobile Modular delivered a temporary campus that was completed in less than seven weeks for the 2009-10 academic year.
-Location. In order to create a building that was strategically placed adjacent to the existing school building, Mobile Modular decided to place the modular building in an open field and on the tennis courts.
-Single Campus. Since the school wanted a single campus feel, Mobile Modular introduced a unique design called the CampusMaker ModPod. This eco-friendly solution would provide a flexible modular classroom complex. Each CampusMaker ModPod included eight 790 sq. ft. classrooms which were equipped with electrical and mechanical controls, as well as an 8' interior corridor and restroom facilities.  In addition, OPEFM also required three Campus Maker ModPod complexes that would safely and comfortably accommodate 840 students. Additional classroom space, however, was provided which included six CampusMaker Hybrid* classrooms that ultimately, reduced the costs of ramps and decking.
2. Raul Yzaguirre School, Brownsville, TX. The Razul Yzaguirre School for Success was an established charter with a well-known record of achievement with a 20:1 student-teacher ratio and a dropout rate of 1.4 percent. In 2010, Mobile Modular supplied a 1,536 sq. ft. of portable classroom to its Brownsville Elementary School. However, in 2011, The Raul Yzaguirre School was seeking additional Brownsville space for the upcoming school year due to the expected 20% enrollment increase, which required two more classrooms.
The Challenges. As time and budget were two crucial factors with the school year quickly approaching, the appropriate classroom buildings had to be delivered, prepared, and installed for student and faculty placement. One additional challenge involved location and proper delivery. The Brownsville School was about 500 miles from Mobile Modular's Houston delivery facility which required the proper transportation permits for delivering the new buildings sections. Overall, the project was completed in a total of four days where 3,072 sq. ft. of classroom space was carefully provided. Mobile Modular provided the following:
Solutions:
-Flexible Double Classrooms. After assessing the school's needs, Mobile Modular recommended the standard 32' x 64' double classroom product which offered 24' x 32' dual classrooms with an interior partition which provided flexibility, manufacture quality, and the ease of installation that the school was seeking.
-Delivery of Portable Buildings. Once all of the proper transportation permits were successfully obtained, the units were safely delivered on flatbed trucks which ensured safe and timely installation with incidental touch up required.
-Budget Control. Although the double classroom product already offered flexibility to meet growing enrollments, the Raul Yzaguirre School was qualified for Mobile Modular's new Charter Starter program and received a $1,000 credit towards the lease and installation costs. Consequently, the classrooms were successfully installed and were ready for the new school year.
3. Museum School of Avondale Estates, Atlanta, GA. The Museum School of Avondale Estates was granted charter approval for the 2010-2011 academic year. However, the parents who formed the schools governing council was faced with the challenge of finding suitable facilities under financial constraints. Since the school could not invest in a permanent construction project, the chosen modular solution was located on the site of a leased church parking lot, which would serve as the initial stage of a three-year facility plan.
The Challenges. In 2010, the Museum School administrators presented an ambitious set of requirements. The administrators outlined many requirements such as a flexible floor plan for future enrollment needs, a strong emphasis on natural light, creating a learning environment for high-performance education, and lastly, the building had to be energy efficient with an attractive appearance of permanent construction.
Mobile Modular Solution. The Mobile Modular team recommended an overall 11,000 sq. ft. project, complete with classrooms, administrative offices, restrooms, and multi-purpose rooms which met all of the requirements the school council had envisioned.  The project was completed in time for the start of the school year and would house 140 students. Let's see the strategic plan Mobile Modular created while delivering this building on time.
-Flexible Classrooms. With much thought, Mobile Modular recommended the popular Campus Maker ModPod which is a flexible, easy to expand, and environmentally friendly product that has customizable exterior options. For example, rooms can be extended, added, and removed without hassles from a single large structure.
-Efficiency. This Modpod's EPDM (ethylene propylene diene terpolymer) cool roofs and high-efficiency lighting were added, and exterior windows were made larger to let in more natural light. HVACs and the Bard CS2000 climate control platforms were seamlessly added to the complex to lower energy consumption as much as possible.
Permanent Look-and-Feel. In addition, to providing advisory support for land preparation since this structure was built on a flat church parking lot, the building needed power and plumbing as well as adding curbs, gutters, and handicapped parking. Lastly, the exterior changes in design were also provided to ensure the building looked like a permanent structure.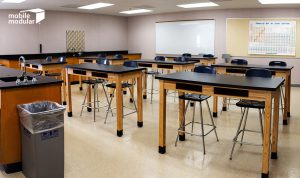 Mobile Modular's customizable, easy to install and cost-effective modular classroom and campus solutions helped these three schools meet their needs in the shortest time possible.
If you are on a tight budget or pressing deadline, our modular buildings are an excellent solution for any school expansion or modernization project. Explore a range of mobile classrooms as well as used portable classrooms for sale from Mobile Modular. Request a quote today!