Today, the intensity and frequency of extreme weather incidents are affecting four times as many counties in the United States than they did 4 decades ago. In 2017, a record rainfall of 55 inches from Hurricane Harvey resulted in catastrophic flooding, while Hurricane Irma left about 17 million people without electricity, leaving its mark in the record books as the largest power outage in American history.
Needless to say, hurricanes and their aftermath cause unprecedented damage, and require long-term recovery. The three big hurricanes in 2017, Harvey, Irma and Maria, claimed the lives of over 176 people, while Harvey and Irma combined caused $290 billion worth of damages, making 2017's hurricane season the most expensive season ever in the United States.
In the aftermath of natural disasters, the key focus is on getting things back to normal. However, hurricanes show no signs of disappearing, which is why we must also think of ways to better prepare for future hurricanes. State and federal officials and local entities need to consider a broader hurricane preparedness plan that can not only help minimize damage but also ensure a faster recovery.
How can cities prepare for hurricanes?
A hurricane preparedness plan must cover all bases in that an updated disaster plan needs to be in place and other measures must be taken to ensure that all possible damage has been taken into consideration.
1. Implement and update a disaster plan. Implementing and updating a disaster plan includes listing steps that focus on how to prepare for a hurricane, listing the immediate steps to help restore a normal routine quickly and begin personal and business reconstruction after the hurricane. These stages involve assessing the situation and implementing a mitigation strategy. You need to update your disaster plan to mitigate the weaknesses of the current plan to ensure it is ready for the future.
2. Make any required policy changes.
3. Consider using smart energy grids and renewable energy sources. A microgrid is a vital component of hurricane readiness, and can be a solution to power outages caused during storms as it retains the power of the area by disconnecting temporarily from the centralized system. State and federal governments should encourage the neighborhoods that want to build their microgrids or have community-based solar projects to help in preparing for power outages.
4. Data transparency.  Access to reliable data, financial or property, such as data for repair and demolition permits or newly issued buildings, goes a long way in planning and aligning federal, state and private recovery efforts. Data transparency frees operations from complexities arising out of post-effort scrutiny and makes rebuilding work fair, predictable and efficient to help expedite post-hurricane recovery.
5. Invest more in green, resilient infrastructure. One of the most natural and cost-effective solutions is to conserve and harness natural systems. For example, New York City is restoring oyster beds that act as a natural barrier to storm surges. The woodlands, wetlands and grass absorb the impact of storms by soaking-up surge water and reduce the risk of flooding, as do green rooftops, rain gardens and permeable pavements.
6. Adopting new technology. Advanced technology can play a crucial role in rebuilding after the hurricane.
New devices

- Technological advancements like handheld devices that alert you on oncoming thunderstorms and hurricanes, if used strategically, can safeguard power grids and even save lives.

Modern construction methods

– Modern construction tactics like modular construction can revolutionize hurricane recovery. They not only reduce reconstruction time but are also cost-effective, proving to be an ideal solution for hurricane victims trying to re-start their businesses in record time.
Though natural disasters like hurricanes are unavoidable, their impact can be lessened with well-formulated hurricane preparedness plans at various levels. While the government can change and form respective policies, you can also better prepare yourself by getting flood insurance, adopting modular structures and going green.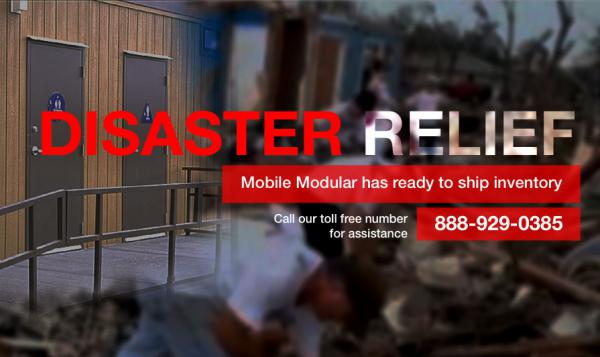 Mobile Modular has a range of modular buildings for hurricane and flood recovery. All our buildings adhere to stringent building codes and are highly customizable. To learn more about our products, contact us or request a quote.