Every year, we face the wrath of nature with devastating effects in the form of unprecedented rains, high winds and flooding, with significant damages to life and property. The most recent hurricane, Hurricane Florence, has claimed over 30 lives and unleashed almost half a million power outages in North and South Carolina. It also dumped trillions of gallons of rain on the Carolinas, resulting in disastrous flooding.
Rebuilding after a natural disaster - lessons from the past
Rebuilding a city in the aftermath of a hurricane takes a lot of infrastructural reconstruction, and policy makers must take steps to improve building methods and help cities become more resilient in the wake of natural disasters. Smart rebuilding after a hurricane involves several innovative steps, many of which involve combating flooding.
Green infrastructure investment
Given that the amount of water a city is going to receive during a disastrous event cannot be perfectly predicted, effective ways to cope with this water need to be discussed to minimize its impact. Green infrastructure investment is one of the well-known and effective solutions to this issue.
Green areas. 

One of the primary reasons for waterlogging is the increasing urbanization and concretization, which blocks the natural drainage systems. Green belts, especially beside river banks, serve as natural levees that protect the surrounding neighborhoods. This method has been tried and tested by the Cedar Rapids neighborhood in Iowa after facing catastrophic floods in 2008, and has seen effective results during the floods in 2016.



Rain gardens. 

Rain gardens are landscaped areas that contain a shallow depression which gathers and absorbs stormwater runoff from hard surfaces. This allows the water to naturally filter down to the soil. It is one of the most efficient and natural ways to return water to nature and minimize its impact on the human environment. In addition, implementing rain barrels can help reduce runoff, since the water is harvested for later use in the landscape. The Meditation Garden at the Port Tobacco Parish in Maryland is an example that demonstrates environmental and watershed stewardship, and has helped in slowing down and cleaning stormwater.



More natural ground cover. 

Using semi-permeable material for pavement instead of regular concrete and asphalt will provide more natural ground cover that can absorb rainwater. This is being implemented and experimented on a massive scale by China in its "sponge city" program, which aims to reuse 70 percent of rainwater.



Retention ponds. 

Retention ponds are artificially designed ponds and lakes that can quickly receive a large water flow through underground channels and storm drains. However, they release and feed water to surrounding waterways slowly. They are typically surrounded by vegetation that offers stability to their banks. These ponds always contain some level of water, unlike a detention pond.




Detention ponds and reservoirs. 

These are dry areas that are used to store the influx of water during a storm or flood. The city of Copenhagen has created these ponds by excavating below permeable land-like parks. These reservoirs fill up during the storm and even fill up the parkland to create a temporary pond



Moving out of the floodplain. 

A floodplain is an area next to a stream or river that is subject to flooding; moving out of this area is an option that will help give nature back its space for natural drainage as well as create a buffer zone. In post-hurricane rebuilding after Sandy, some local governments in New York bought the damaged vacant properties to turn them into wetlands.
Building floodwalls and upgrading sewer drainage pipes
Building a wall along the threat boundary to serve as the front line and help preserve as much along the line as possible is another option to prevent flood damage. The detachable storm wall system is an ideal one and has been implemented in Iowa along the Cedar River.
Instead of rerouting the surface water, it can also be funneled into the sewers. However, present sewer systems are not sufficient for the population they are serving. Redesigning the drainage patterns for some of them and increasing their size can help lessen the flooding impact.
Raising the entire city
Though it sounds extreme, this is an ideal solution for low lying, flood-prone cities like Miami where flooding is a common phenomenon and water-recession is extremely slow. It is not an easy task, the barrier island city of Galveston, Texas adopted a similar approach a century ago after the Galveston Hurricane of 1900 resulted in catastrophic flooding and thousands of fatalities. Buildings were lifted by almost 16 feet by filling in building foundations with millions of tons of sand.
Alternatives to traditional options
We also need to think of innovative alternatives to the traditional ways of rebuilding. One of them is using modular buildings for business construction. Modular construction not only offers the required protection against environmental factors like rain, but is also faster to build and easier on the pocket compared to traditional building methods.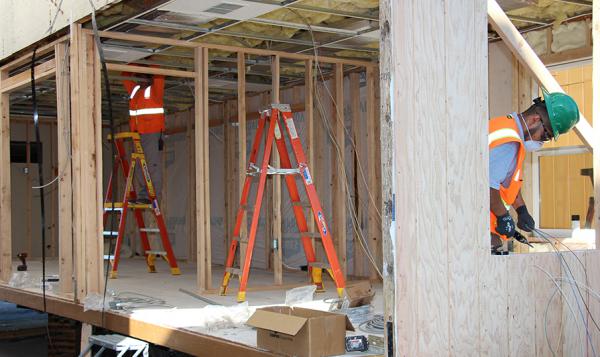 Modular classrooms and school buildings also offer quicker school reconstruction after hurricanes.
Mobile Modular is a leading modular construction company that rents, sells and leases relocatable modular buildings. For more information, contact us or request a quote.