Adaptability and flexibility are top construction priorities for healthcare organizations according to the 2017 Hospital Construction Survey by the Health Facilities Management and the American Society for Healthcare Engineering of the American Hospital Association (ASHE).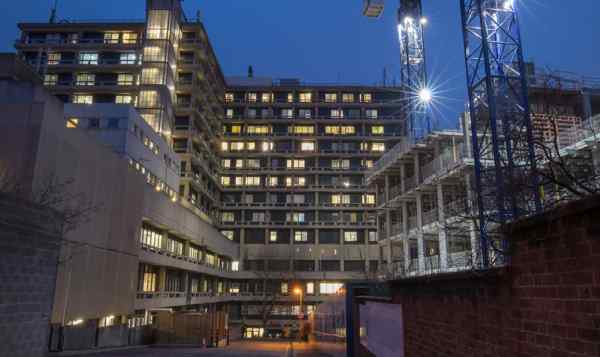 Hospital construction projects have their unique set of challenges.   What role can modular construction play? Let's look at how modular buildings help solve hospital construction issues.
1. Time-Saving Repairs, Renovations, and New Buildings
Repairs and renovations cost hospitals a lot of time and revenue. But the greatest loss is to patients who can be redirected to other care centers for their treatment.
Fast tracking hospital construction is vital. Modular buildings provide quick building solutions, requiring 30% - 50% less time to build than traditional construction. All parts of the modular building are developed off-site in a factory for assembly at the site. This can take a few days or a few weeks, depending on the project, saving precious time and lives.
2. Cleanliness and Safety
Remodeling is a necessity during a building's lifespan. In the case of hospitals, this can get tricky. You don't want dust and debris to damage or contaminate any of the other functioning departments of the hospital.
There are countless examples of how daily procedures were disrupted or postponed to clean up after dust or debris contaminating the premises. Such interruptions in an already hectic place put immense pressure on staff to re-schedule appointments or relocate patients.
Modular hospital buildings reduce dust and debris since most of a project is built off site. Installations are scheduled ahead of time and take place smoothly and quickly, therefore staff can prepare ahead of time, scheduling appointments around those dates and relocating patients if necessary.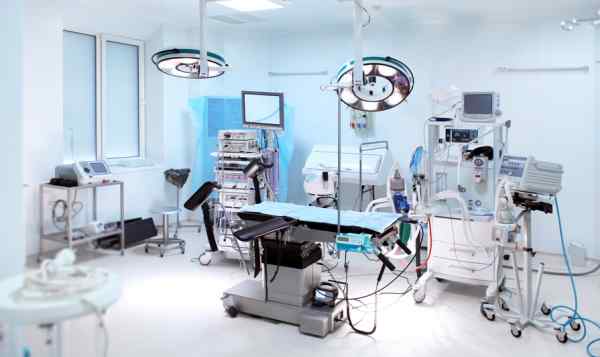 3. Adaptability
Many hospital buildings are old and their architecture doesn't allow for much flexibility.  New, state of the art additions become a challenge, especially when there is a lack of space. Modular buildings offer hospitals the flexibility they need. As the needs of the hospital change, so can modular buildings. Transform rooms from clinics to offices with ease. If a hospital requires more space, smoothly add new wings or wards.
4. Great for Emergencies
Natural disasters call for emergency healthcare facilities. Sometimes hospital buildings are damaged in disasters, as was the case with two hospitals in the Virgin Islands. After Hurricanes Irma and Maria. Schneider Regional Medical Center on St. Thomas and Juan F. Luis Memorial on St. Croix., Governor Kenneth Mapp announced that modular hospital buildings would provide healthcare to patients.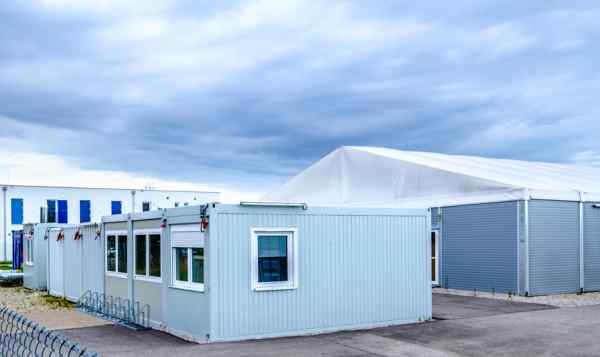 Modular buildings are advantageous for emergency situations due to fast build times. In a matter of days or a few weeks, depending on the size of the project, hospitals can open clinics in high need areas.
5. Cost-Saving
Prefabricated hospitals save money in several ways. First, since they are built in a factory setting, labor and on-site costs are reduced compare to traditional building methods. Second, a modular hospital building will be functional faster than a traditional build, so the hospital can begin recouping the returns on the investment sooner. Modular buildings also come with energy efficient features, which increase utility savings down the road.
6. Sustainability
Modular buildings are a part of the green movement. Energy efficient features and building practices help hospitals reduce their carbon footprint and produce less waste during the building process. For example, these buildings use recycled materials and energy efficient HVAC systems, and modular building strategies lower noise and air pollution at the construction.
Providing high quality medical care is the mission of every hospital, big or small. However, hospitals grapple unique construction issues. Modular buildings help solve hospital construction issues because of their cleaner, greener, and smarter building strategy.
At Mobile Modular, we pride ourselves with helping hospitals solve hospital construction woes. Our modular buildings, available for rent or sale offer state-of-the-art technology and flexibility for every hospital project.
When you rent from us, we offer a unique 30-day billing cycle instead of the regular 28-day one. Our deliveries are hassle free with great guidance from our service team. Request a quote today!