Hurricane Katrina was an unforgettable disaster. Hurricanes like Ike have come and gone since, but Katrina has been by far the single most catastrophic natural disaster in U.S. history. With nearly 2,000 deaths and millions of families left homeless across New Orleans, how did the city ever come back from such a terrifying and life changing disaster?
According to FEMA, Katrina caused major damage ($108 billion) to both private and public property. Thousands of families had to take refuge in the New Orleans Convention Center and the Superdome. Additionally, businesses suffered heavy losses. Fortunately for New Orleans, there were quite a few modular construction companies around at the time to help people rebuild their homes and businesses and to provide temporary housing for displaced families. With a lot of help from organizations, governments, and private companies, New Orleans was able to see this disaster through.
What if a storm as bad as (or even worse than) Katrina were to strike today? Would we be able to handle the destruction? Would rebuilding an entire city even be a possibility? How would we even go about providing shelter to homeless families and destroyed businesses? Are businesses aware of the benefits of modular construction?
The Impact of Natural Disasters. When a disaster hits, be it a storm, a flood, a fire, or an earthquake, destruction of property is inevitable. It is the extent to which the property has been damaged that differs. In some cases (like Katrina), thousands of families were left homeless in the blink of an eye. People can lose their belongings and their businesses, and thousands are left wounded. Some unfortunate ones even lose their lives. Since these are all natural disasters, there isn't much that can be done to prevent them from happening. "It is likely that the frequency of heavy precipitation or the proportion of total rainfall from heavy falls will increase in the 21st century over many areas of the globe."1 With this in mind, and the uncertain future, it is important to be prepared and know what options are available when disaster strikes.
Impact on Business and Education. When it comes to disaster relief, often the people who have lost entire businesses or educational structures are not the main focus since; rightfully so, humanitarian aid is of utmost importance. However, what options do they have to keep their business going despite a temporary loss in their physical structure? Often what hurts the business the most is the loss of time, the waiting for a traditional structure to be built with no temporary option. On account of hurricanes, floods, or other natural disasters that wipe out everything from schools (leaving thousands of students without proper classrooms and access to education) and small businesses, there is a need for assistance before they can get back on their feet without stopping their operation.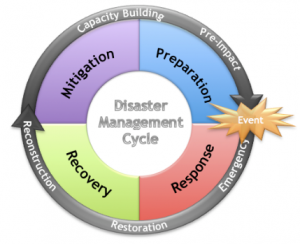 Disaster Preparedness. Disaster readiness means having a complete backup plan should a disaster strike at any given time. Whether or not a region is typically disaster prone, disaster preparedness should always be a priority. Better safe than sorry! Sometimes disasters do not just come in the form of natural but they can also be accidental or human caused. Either way, knowing where to go for help and having a good plan can be the difference between your business taking an unplanned hiatus or continuing to do business during recovery.
If you ever took a disaster management course, this would sound familiar to you. There are four stages on how to address disasters:
Mitigation
Preparedness
Response
Recovery
Preparedness is the key to overcoming any disaster. Making sure there are relief options available on standby and a proper exit strategy for people in buildings merely skims the surface of what is expected in terms of disaster preparedness. Only with proper and thorough preparedness can you expect a close-to-full recovery. Having contacts and knowing the logistics of receiving help is the best way to stay prepared. You need to rely on experienced companies that can provide quick actions and keep operations going so your emergency relief with portable buildings and secure storage is expected to be as fast as possible.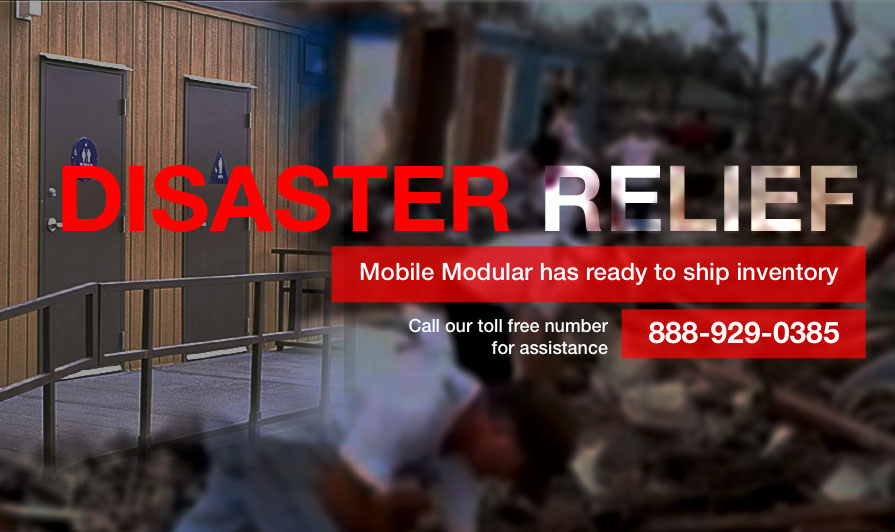 For example, after the Sep. 11 attack on the Twin Towers, many modular companies came together to help provide relief. People worked through mobile offices when their offices were destroyed during the attacks. One such mobile office was displayed in an exhibition at the New York State Museum in Albany.
How Mobile Modular Can Help with Disaster Relief
Modular construction (in general) is quicker and cheaper than traditional construction. Entire projects can be built in half the time, cutting down on labor and material costs. Being built in a controlled factory environment allows for these structures to be of the highest possible quality. Additionally, these structures significantly reduce running costs in the long run.
After a disaster strikes, shelter is the next thing that is needed after medical attention. Modular structures can be erected in no time at all, thus providing a quick, temporary solution to people who are in need of immediate housing.
With Mobile Modular, you can have mobile offices and temporary office spaces ready in no time or on standby should you ever need them. Temporary classrooms can be made available quickly for schools that suffer damage and are undergoing rebuilding and reconstruction.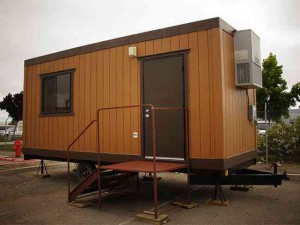 Mobile Modular Portable Storage provides high quality steel storage containers that can be used to temporarily store personal belongings, office supplies, construction materials, etc. while a more permanent space is being constructed.
Adler Tank Rentals can provide large storage tanks that can be preserved underground and can remain unaffected by floods and hurricanes, to store clean water so that it is available in times of emergencies.
Disasters, man made or natural, can hit at any time and can cause anything from little to absolute destruction. Imagine having your entire life blown away (or washed away) in the blink of an eye. Having an arsenal of modular buildings, storage spaces, water tanks, temporary classrooms, and mobile offices on standby can never hurt.
In fact, it may even save your life someday.
Resources:
1. http://www.ipcc.ch/pdf/special-reports/srex/SREX_FD_SPM_final.pdf