When do you feel really fulfilled at work? While paychecks, perks, and career growth come high on any employee's priority list, the Mobile Modular team doesn't just stop there. Our answer is simple yet powerful: Get involved with something that goes beyond work and connects with the local community around to make a real difference. Mobile Modular currently supports approximately sixteen local charities yearly across the nation. Each of our eight branch locations throughout the United States strives to actively engage in building local communities around us. Each time we do so; we get pumped up! We totally love the fact that we can make a difference in many lives. Here's a snapshot of some of our community engagement and stories about volunteering.
Community Service at Tri-Valley Haven, Livermore, California
Imagine how wonderful the world would be without violence. That's exactly the vision of the non-profit organization Tri-Valley Haven serving children and adults who have been victims of domestic violence, rape, abuse, and homelessness. Mobile Modular decided to support this great cause by helping them stock supplies on the second Tuesday of each month. What used to be half a day's task has been reduced to a mere 30 minutes, thanks to the faithful work of our volunteer team. They have pledged to help out for the next six months. We hope our little bit will go a long way in helping the victims of violence at Tri-Valley.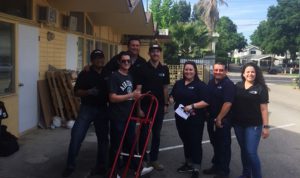 Volunteering with Habitat for Humanity, Grand Prairie, Texas
Habitat for Humanity is a globally renowned organization that has been helping people find independence and strength through safe, decent, and affordable shelter since 1976. Habitat homeowners work alongside volunteers to build their homes without paying a hefty mortgage. Our team at Grand Prairie joined this noble effort and helped complete roof trusses for homes. The Mobile Modular team went all out with their efforts. Brandon Simpson, Jose Zuniga, Harvey Smith, Sean Ruff, Cody and Sarah Langley, and Cynthia Jeter and her son worked together enthusiastically, and we hope to partner more with the DFW area Habitat for Humanity chapters.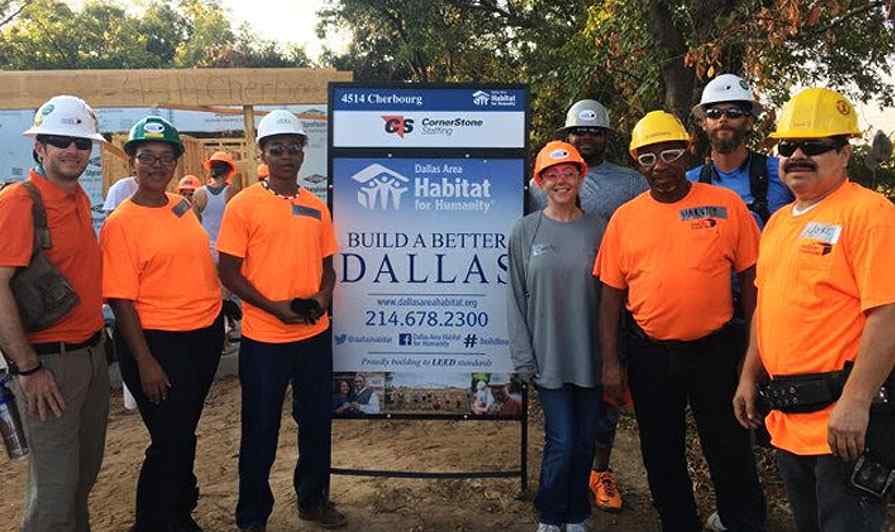 Giving Back with Queen of Hearts Equine Therapy Ranch, Jurupa Valley
While looking for a deserving volunteer experience, Mobile Modular employees Brett Turley and Jeff Lukawski found the Queen of Hearts Equine Therapy Ranch. This unique non-profit organization helps psychologically, developmentally, and physically disabled people. Queen of Hearts uses the therapeutic communication horses have with people to help them heal. Founder Robin Kilcoyne was struggling to find time to look into maintenance and repair issues because of her schedule was packed with taking care of the horses and meeting clients.  Our team made a list of 12 projects to accomplish during their short stay. Take a look at the things they got done!
-Re-roofed a feed barn
-Re-framing
-Installed 300' of kick boards around the arena
-Installed lights
-Corrected electrical work
-Trenching pipe
-Set Up a horse-proof sprinkler system
The Mobile Modular team also contributed in a very special way. Since the Ranch also has a Medieval Times show featuring knights on horses, the Mobile Modular team decided to turn four buildings into a castle. They did this by erecting a 60-foot facade and 15-foot towers. The ranch team, as well as their clients, were blown away! Altogether the team contributed 300 hours worth of hard work to a deserving cause.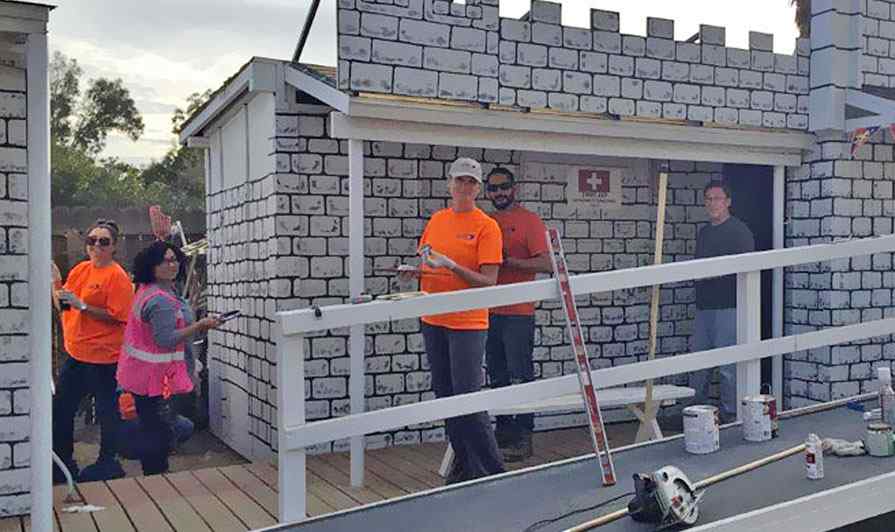 We consider it a great privilege when local Mobile Modular teams get an opportunity to volunteer and can give back to the lives of the community around us. We hope there'll be more community service stories this year. Going beyond our regular work schedules and roles has given us a sense of fulfillment makes our work meaningful.