Mobile Modular Volunteers at the Queen of Hearts Equine Therapy Ranch #GetInvolved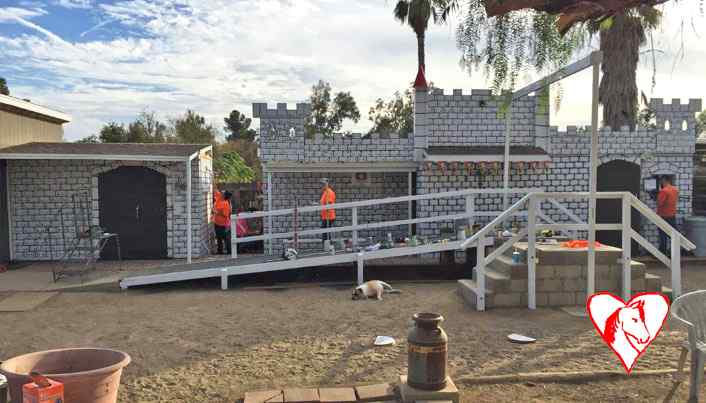 Mobile Modular Volunteers at the Queen of Hearts Equine Therapy Ranch #GetInvolved
While searching for a company volunteer experience that has roots within the Mira Loma community, Mobile Modular employees Brett Turley and Jeff Lukawski discovered a suitable and very deserving opportunity to lend a hand to the Queen of Hearts Equine Therapy Ranch of Jurupa Valley. This equine therapy ranch is a nonprofit organization dedicated to assisting individuals that suffer from developmental, psychological or physical disabilities. There is an unspoken therapeutic communication with their horses that have a healing effect on the people they help.
On a sunny Saturday morning, a team of thirty-six Mobile Modular employees from various departments arrived early to help the founder, Robin Kilcoyne, tackle a laundry list of deferred maintenance and repair issues. These projects took a back seat to her daily routine of attending to the horses and clients in need. In preparation for this day, we compiled a list of twelve main projects that we thought would have the most impact and could mostly be accomplished in a single day. Project tasks included re-roofing a feed barn; re-framing; installing 300'of kick boards around the arena; installing lights; correcting electrical work; trenching pipe and setting up a horse-proof sprinkler system in the arena.
After some brief calisthenics and stretching, the team hit the ground running and contributed more than 300 total hours. Jeff noted that "having this many concurrent projects with so many people working within 50' of each other had the potential for a chaotic worksite, but the respective teams all got along amazingly well, interference was minimal, and EVERYONE seemed eager and happy to do their best and rock it out."
One of the organization's themes is a Medieval Times show involving knights on horses, but it was noticeably missing a common element to tie this theme altogether. So in addition to the repairs, the group decided to embark on the challenging task of turning four mismatched buildings into a common castle with a 60-foot façade and 15' towers to support the foundation's Medieval theme. This castle made one of the more noticeable changes in the look of the ranch. Robin told us of client's response who upon returning after the castle was up, stood there while gasping at the castle, and said just two words…"WOW!...WOW!." This was most rewarding to hear and makes the complete effort seem so well worth-while. "I am blessed to have had Brett reach out to me when he did - so grateful," said Robin.
Volunteers from various departments within the company all came together to support one common goal of service. As of today, Mobile Modular Management Company supports approximately sixteen local charities yearly across the nation. To learn more about the Queen of Hearts Equine Therapy Ranch and how you can help, visit www.queenofheartsranch.org